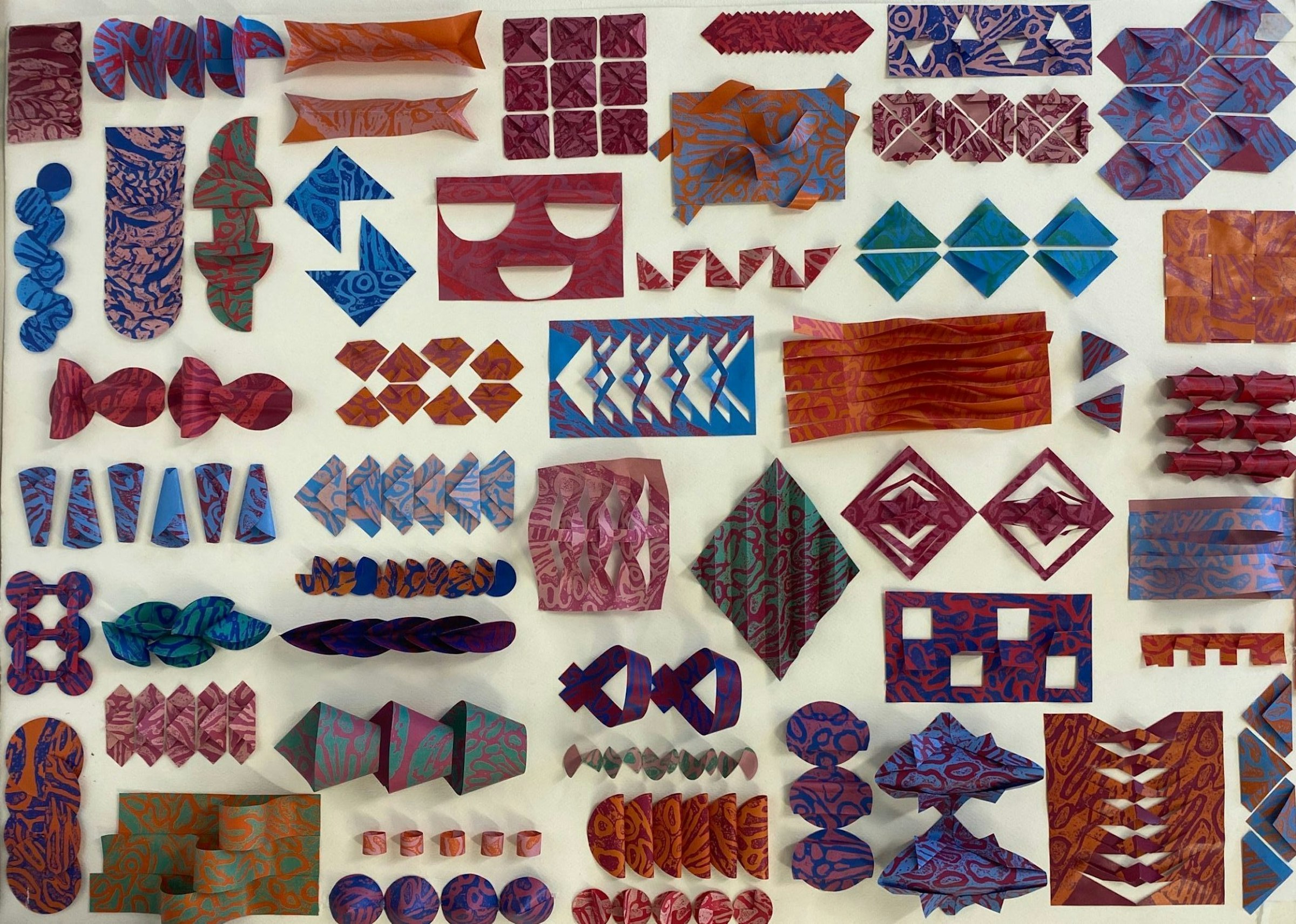 Five students from AUB's BA (Hons) Textiles, MA and BA (Hons) Illustration courses have been shortlisted for the Batsford Prize People's Choice Award.
BA (Hons) Textiles students Grace Faichnie, Tilly Ryce and Ruby Travis have all been shortlisted for their works, which explore undersea ocean motifs, the dark mysticism of tarot reading, and the natural connections between plant and insect.
Post-graduate MA Illustration student Rumin Wu, also shortlisted in the same category, explores the impact on technology on human communication and connection through The Signal, which looks at how chat and video over smartphone affects us all.

Rumin said: "I used to draw some warm and healing packaging and stationery for a company, but now I'm more about exploring my own style during studying at AUB.
"For me, drawing is like an expression of myself, and The Signal, which is one of my images about communication, talks about how, with the help of modern technology, the way people communicate is no longer limited to face-to-face contact, but more often they use chat and video on their mobile phones, which has changed our habit of communication.
"Like the whole city, people are looking for signals across the city. And inside the building, people have immersed themselves in the messages of their mobile phones. How can we make people feel warmness and kindness through messages? These are the questions that we have to face in this generation."

Shortlisted Textiles student Tilly Ryce said: "For my Moody Astrology project, I created of a series of wallpaper and fabric prints, meant for a luxury interiors target market. The designs were inspired by the darker side of Astrology, using motifs from Tarot Card readings and a dark colour palette with gold leaf foiling.

"I am so delighted to be nominated for the Batsford Prize. Working for three years throughout covid has been a rollercoaster of emotions and being nominated helps to feel like all the hard work has paid off!"
She added: "Batsford books are such a recognisable and iconic brand, so I am excited to see who the winners are, as two of my other classmates are nominated, so I would be equally as pleased for them to be awarded the prize, and excited for the final result."
Meanwhile, BA (Hons) Illustration student Louise Bassou's work Queer Closet is a collection of illustrated outfits in mundane settings set to challenge gender norms and the CIS normative idea of gender expression.
BA (Hons) Textiles Course Leader Anne-Marie Howat said: "Textiles students have historically done very well with the Batsford prizes with many shortlisted and winning over the years.
"The students shortlisted this year from Textiles are very diverse in their skill sets and show off the breadth of the course beautifully; from making paper-printed constructions and producing highly illustrative hand painted and printed wallpapers, to making incredible 3D engineered, laser-cut and constructed decorative accessories. This is amazing work that we are very proud of!"
Students from AUB's Textiles and Illustration courses have gone on to achieve success in the Batsford Prize over the past five years, with Daria Iwon winning in 2019's Applied Art category with Joy, and students Wiktoria Godzik, Emily Lawrence and Tianna Pepe, and George Reynolds being shortlisted for the Prize in 2021.
Batsford Prize winners will each win a £500 cash prize, including £50 worth of Batsford books and £500 worth of books for their respective college or university. Runners up will also receive a £50 book prize.