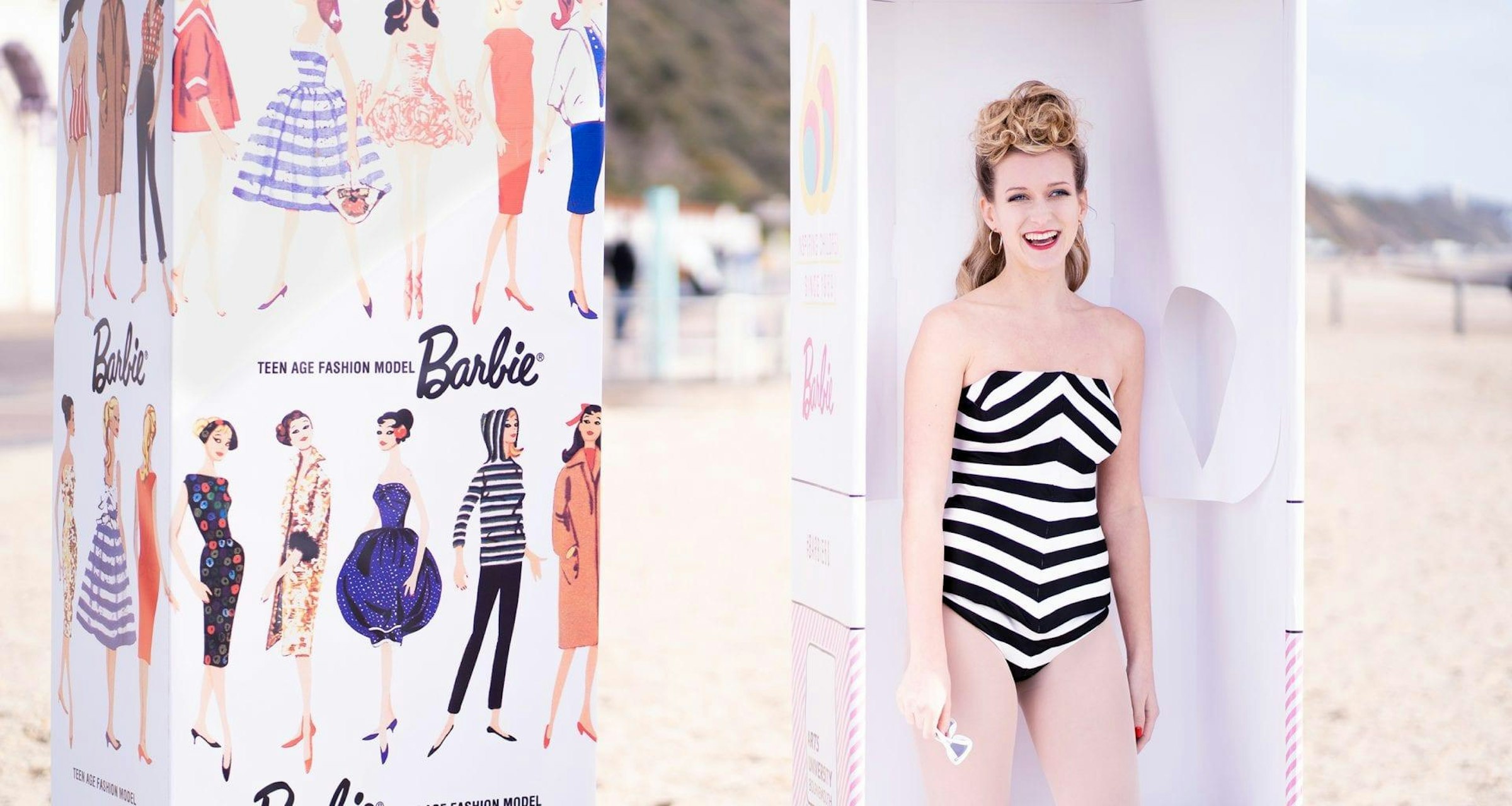 This month, AUB has showcased its students' costume design work through Barbie60, a video that reflects 60 years of Barbie in 60 seconds by showcasing her diverse range of careers, costumes and lifestyles.
AUB alumnus Mark Sephton, of Creative Forager, Creative Director for Barbie60, said: "Barbie60 is all about finding a creative way to showcase the brilliant work of some very talented students as well as how Barbie has transcended gender barriers throughout her existence."
He added: "What better way to celebrate Barbie's 60th birthday year and the diverse skills of the costume course, than making a rapid-fire 60-second film that captures 60 of her costumes spanning 6 decades."
Earlier in the year, an AUB student designed and created a life-size toy display case, a bespoke replica of Barbie's original 1959 packaging together with a huge range of different costumes including the 'Peaches n' Cream ballroom dress, astronaut's space suit and military uniform.
The 6-foot tall box and a real-life model were placed on Bournemouth Beach on Barbie's birthday on the 9th March, vividly bringing Ruth Handler's design to life, sporting Barbie's original costume; a black and white zebra striped swimsuit, created by Mattel fashion designer Charlotte Johnson.
BA (Hons) Costume and Performance Design Course Leader at AUB, Rebecca Pride, said: "Throughout our course at AUB, we are teaching students who will be working in a range of career roles when they graduate, from film and theatre, to festivals and events. Gender shouldn't ever be a barrier to success and career progression."
She added: "Barbie has championed a spirit and determination to further the aspirations of both men and women in their career hopes and dreams, so it's a perfect fit for us to celebrate her birthday and highlight her brilliant work.
Speaking to Marketing Week ahead of Barbie's 60th birthday in 2018, Mattel Chief Operating Officer Richard Dickson said: "Barbie's birthday represents a bigger loudspeaker to celebrate who we are and what we've achieved and hopefully create a movement where people become even more inspired by the brand.
"It's an opportunity to take a look back and celebrate the history while ensuring [Barbie doesn't] become history. You have to create the next version of that brand's history and tell your future story."
In 1959, American businesswoman and parent, Ruth Handler, watched her daughter Barbara play with children's paper dolls, dressing them in women's clothing and having them take on all manner of career roles.
Ruth's husband, Elliot, had been a co-founder of US toy company Mattel, and despite his initial reluctance, pitched the idea of a more grown-up toy doll with changeable outfits to Mattel's board of directors. Ruth then worked on the design with missile-engineer turned toy designer, Jack Ryan, and on 9 March 1959, Barbara Millicent Roberts, or 'Barbie', was born.
Barbie has since taken on a range of different careers and lifestyles, from her beginnings as a teenage fashion model, to aspirational roles as a TV news reporter, political candidate (of no particular bias) and firefighter. She's also held a pilot's licence and owned a range of vehicles including sports cars, campervans and jeeps.
Mattel has recently worked to ensure Barbie's position as a 'purpose-led' brand by launching a global campaign to raise awareness around factors that prevent girls from aspiring as much as their male friends and classmates.
The 'Dream Gap Project' is a multi-year initiative targeting adults and children, and features a range of girls highlighting key findings from academic research on the phenomenon known as the 'dream gap'. According to research published in 2017, girls are less likely than boys to view their own gender as smart from the age of five.