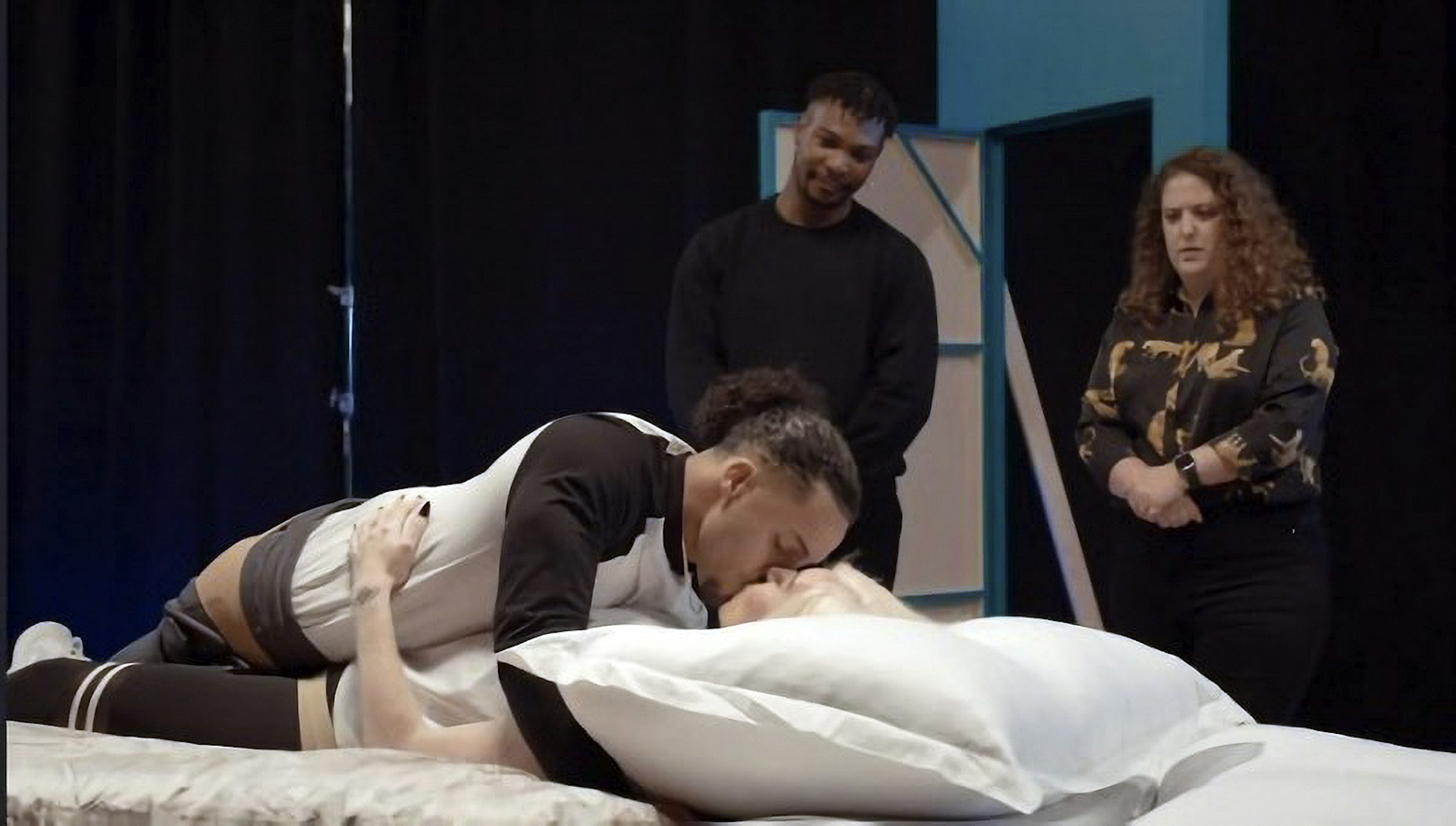 Before reaching AUB's Bournemouth Film School, Intimacy Coordinator Rufai Ajala worked in the film industry for more than five years; grafting on film sets as a Gaffer, a Spark, and finally as a Camera Assistant.
But, after speaking with colleagues and fellow film industry contacts, it was clear that studying at university could bring within reach the coveted crew role of Director of Photography (DP) – a tightly-held dream of London native, Roo.
"AUB seemed like it had a lot of talented people in terms of teaching and learning, and a lot of the DP's I'd met had learned their skills at AUB. Industry colleagues had said that a formal education was the right place to transition to the next step. On set, I was mostly working in the lighting department, and transitioning from those roles to DP just didn't really happen."
And coming from a non-traditional education, Roo's pathway to higher education was far from straightforward.
"In the 2000's, teenagers like me who weren't at school were termed a NEATs (not in education, apprenticeships, or training). I had learning difficulties and didn't fully complete secondary school, so I didn't have the grades I needed. But at that time, for young adults between 16 and 24, there was an opportunity for young people to get into two-week short courses with the Prince's Trust – the most interesting one I'd seen was for Film and Digital Media.
"I signed up, and that was really where I found my footing in the industry, I met so many creatives. Afterwards, I did two months' work experience at i-D Magazine, where the magazine's Fashion Editor became a real mentor. I'm from a West African, single-parent, third generation family, and my sister and I were the first of our family to go to university. I'm not sure my mum really knew what we were capable of!
"The work ethic that my mum instilled in me – being a single parent, working class and a person of colour – just made me work twice as hard. You've got to really fight to be in spaces that you're not normally seen in, and you're really going to have to prove your worth to be a success. I grafted hard to get to Bournemouth, and after night school and college, I got the relevant qualifications in English and work experience to get onto BA (Hons) Film Production.
"Despite offers from four other universities, I was really aiming for AUB. AUB isn't some university that no one has heard of; it is a university that's so well-recognised across the film industry and it gave me a seat at the table. It wasn't just the name and brand; it was the amazing people coming from out of it too. Having my AUB studies behind me just seemed to give me more credence and credibility."
After gaining a place, Roo set off figuring out the areas of film craft that appealed the most; from camera assisting, to editing, lighting, and cinematography.
"At first, I was set on a path to becoming an Editor, but after seeing how people were having a lot of fun interacting on-set, I started having the desire to be part of that environment, and I got stuck into working in the Lighting Department. I don't regret trying different disciplines, as there was so much value in learning about other roles.
"I took part in AUB's Erasmus Programme in my second year where I moved to Prague for six months, which really changed my perspective on cinematography. I started going to the CAMERIMAGE Festival in Poland, and I've kept on going every year! A festival purely dedicated to cinematography really inspired me.

So what exactly is an Intimacy Coordinator?
"We're a bit like Stunt Coordinators in that we safeguard people on set, but instead of handling action, we focus on mental and physical wellbeing on set when choreographing intimate scenes. Stunt Coordinators are focused on the physical, and when stunts go wrong, physical injuries happen. With intimacy, there might not be a physical injury, but there can be emotional or mental injuries which are much harder to see.
"Any scenes involving intimacy like nudity or simulated sex fall under our remit, and we help the Director and their creative teams to get what they want and require from that scene. We don't direct the scenes or overtake other roles; we work in tandem with them to support creative work.
"Self-healing was a big reason for training for the role as it meant I could protect and safeguard people, after living through traumatic experiences myself. I was working on a lot of films as a Cinematographer; dealing with queer and trans people, people transitioning, and people of colour – people within my own community who were telling their stories.
"Within that, there was a lot of intimate storytelling, and as a Cinematographer who was getting involved in simulated scenes on set, I wanted a toolkit. This role is about giving actors the tools so that they can do their work safely and go home in one piece. If we feel that's been carried out, then our work is done."
Recently, the role became front-page news after acclaimed actor Sean Bean claimed that Intimacy Coordinators spoil spontaneity on set. But Roo has a different take.
"I think Sean's comments may have been somewhat taken out-of-context. Though I don't agree with them, I can see where his concern comes from. You could also say that things like a script, a director and crew, all have an influence on a performance and its spontaneity.
"Some Intimacy Coordinators find that Sean Bean's comments aren't helpful in terms of safeguarding responsibilities, but as professionals these kinds of discussions are necessary and important to reflect on – the debate has given us a voice and opened a conversation about what people are and aren't comfortable with and that's incredible."
And it's not just the conversations that are changing. Roo adds that whole dynamic of the crew is something that's increasingly welcoming, diverse and forward-thinking.
"I love being on set, and after ten years of working very hard to 'fit in', things have really started to change. When I started out, things were quite masculine and macho on-set, but that's changing. I was shooting a commercial last week, and the team was just the best. Everyone was so friendly, it was relaxed, and all the energy was still there. I'm finding more often that there's a new energy and new environment.
"People are trying to change the culture in film, bringing diversity, wellbeing and understanding with them. The industry still goes from one extreme to another, but we've got to allow for more nuanced conversations too. It's about expanding the people we interact with and gaining new understandings from different cultures."
For mature student Roo, university was an opportunity to challenge and explore identity, and confront gender stereotypes.
"Being a mature student felt a bit unusual, as it seemed that while others were around 18, I was 21, so I was at a bit of a different stage in terms of finding myself. For many students, it was the first time living away from their parents, but being a bit older, I'd already been doing that for a while.
"I'd begun to explore my own gender before AUB, but I never really understood it properly before Bournemouth. I'm so grateful to AUB for the University's Counselling Services – I was going through a lot of childhood trauma and issues around gender and sexuality throughout my first and second year. There was just so much going on in my life at that time, the university counselling team really helped me."
Looking back on their time at AUB, Roo explains that the sense of a small and close community was something unique and special.
"What do I most miss about AUB? I want to say that it wasn't all about the nightlife, but there were some great times with parties and social gatherings! I'd say the community, which was great – AUB was so warm and friendly. Bournemouth's scene was small, but the Students' Union put a lot of events on. I'd come from London, where there were loads of LGBTQ+ events and venues; but it was nice to be somewhere smaller and more friendly, before going out into the bigger world. Bournemouth was great for that.
"In London, everyone is an hour away from one another, but in Bournemouth, you could walk down the road to meet your friends! We had self-hosted student Christmas Parties and about 25 of us would all meet up for Christmas Dinner. I have fond memories of those small social gatherings, and during that small sliver of time as a student, AUB felt like a family.
"We tried to repeat things when people had moved away to places like London, but it just never seemed the same! People are older, and you're at the stage where people are working different hours and stuff. Where you are in life is just…different. I miss that!"
Represented by Lucy Price at Loop Talent, Roo's recent projects include feature and short films Better (Sister Pictures), Minutes by Alix Eve and Olivia Dowd and Channel 4's How To Be A Person, which features provocative stories about being a teenager, from sex and sexuality, to bodies and abortion, that radically reimagine adolescence as an era of self-acceptance - not self-loathing.
Rufai Ajala is an award-winning non-binary certified Intimacy Coordinator, who completed their training with Yarit Dor under a special mentorship programme by Screen Skills and Moving Body Arts.