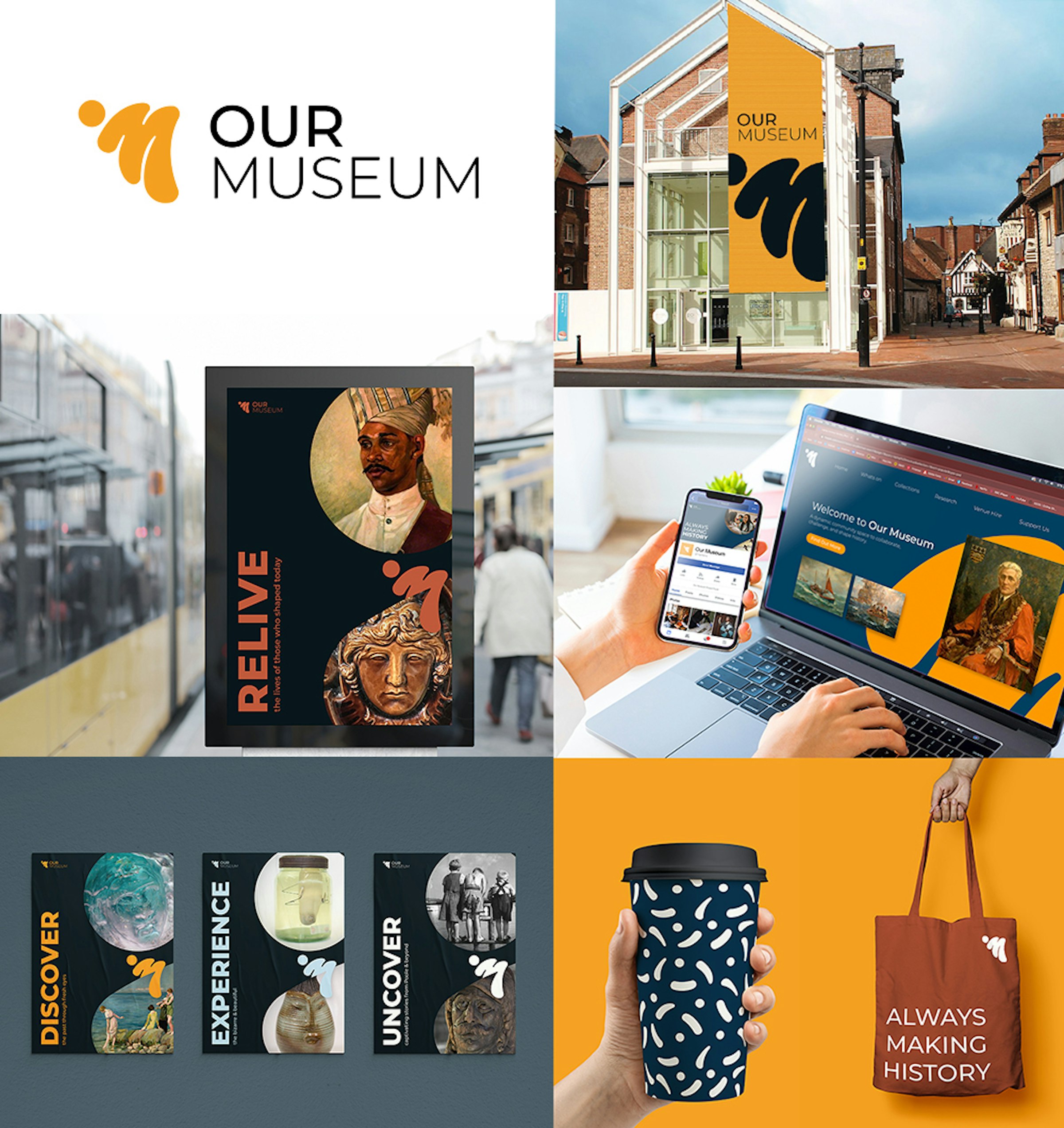 Graphic Design students from Arts University Bournemouth have created a new brand identity and visual system for Poole Museum's new National Lottery Heritage project.
Funded by the National Lottery, Our Museum has seen a new maritime gallery and museum space developed, with Poole's community at its heart. The project is anchored in the history, heritage, space and place of Poole through engagement with Poole Museum's buildings and collections.
It aims to bring these assets to life in creative ways through collaboration and participation with diverse local audiences and seeks to create a sustainable, relevant, contemporary cultural space, reflective of the needs and interests of its audiences.
The project was set as a challenge to second year BA (Hons) Graphic Design students as part of their unit, involving primary research in the creation of a brand proposition, the design of assets for various brand touchpoints across digital and physical, a set of brand guidelines to identify how the visual system could be used, and a logo.
Alice Stevens, AUB Human Founder and Senior Lecturer in Graphic Design at AUB, said: "We were delighted that Poole Museum came to us for help with this project, initially they just wanted a logo, but in our first conversation we realised that for us to do justice to the project we needed to start at the beginning and create a clear brand proposition if we were to explore how the museum might engage new audiences.
"This knowledge exchange project has been mutually beneficial, demonstrating how AUB and Poole Museum can collaborate in the sharing of ideas and expertise to create a unique brand identity that is appropriate for the project context and speaks to the community with whom it serves.
Alice added: "It has been an amazing opportunity for the students to engage in a live brief as well as gaining exposure for their work, while linking in with our AUB Human initiative, which connects designers, architects, filmmakers and other creative practitioners who share a desire to bring about positive change for global good.
"It has been a pleasure working with the museum and Dr Alex Reynolds, who has shared her time generously to brief the students and give feedback on their pitch presentations."
The winning team, Rosie Dadswell, Abbie Coughlin, Kiran Kerai and Sophie Larkins, won a £250 prize for their work, with three other projects being judged Highly Commended by Michael Spender, Museum and Arts Director and his team. Judges found the winning team's designs to be 'welcoming and inclusive', with brilliant use of maritime flags as a 'subtle but effective way to bring in the sea and maritime history while connecting with the museum's existing logo'.
Dr Alex Reynolds, Our Museum Collections and Engagement Officer for Poole Museum, said: "We have been struck by the incredibly high standard of the work produced by the students in such a short timeframe.
"We're really excited to be adopting this branding and such a fresh new identity for the project, and would like to thank AUB for collaborating so generously on this project."
The Our Museum brand identity will be implemented in January 2021, and used across marketing, communication and events materials for the project going forward.