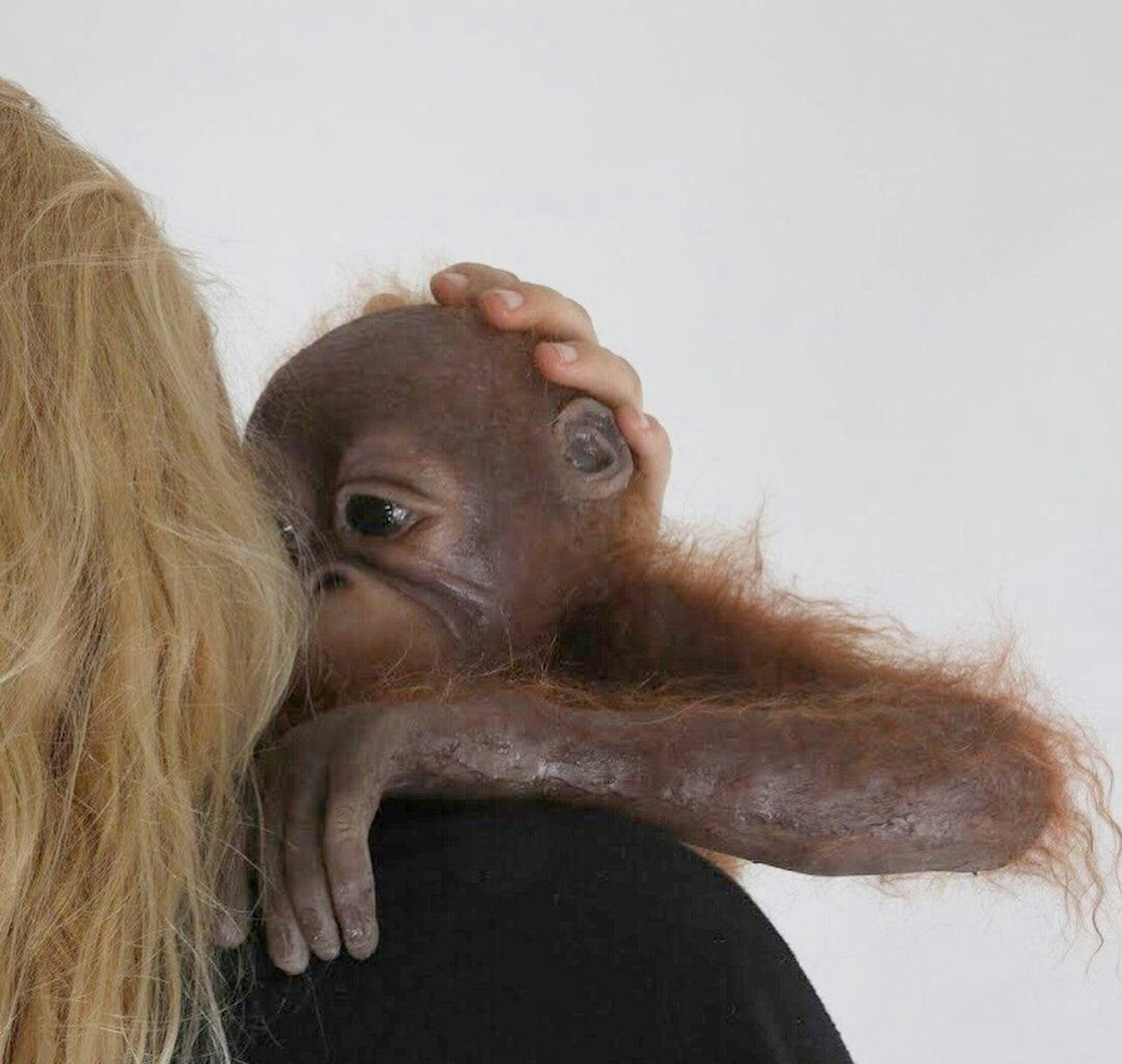 The video, which shows the step-by-step process of how she created a hyper-realistic prosthetic mask of Carl Fredricksen from Pixar's movie 'UP', was picked up by LADbible and has received over 1.7M views, over 13,000 reactions on Facebook and a further 1.9K shares. Viewers have been notably impressed by how realistic the mask is and how the animated character from the film has been brought to life. What's more, Emily's Facebook page, Em's Models has now received an astonishing 13.5M video views in total!
One viewer commented: "That's amazing. The amount of work that has gone into it [must have taken] weeks, but it looks fantastic."
While one viewer commented on Emily's viral success: "Amazing! Three mainstream videos with over 13 million views in total, you should be super proud, Emily Parker.
BA (Hons) Modelmaking graduates held their London Summer Show, New Blades, earlier this month, when Emily showcased the remarkable mask and a sculptured baby monkey with much praise from her tutors and peers. Emily is thrilled with the admiration and publicity her creations are gaining and is excited about the opportunities she has since been presented with, including landing a dream job at Warner Bros Studios.
Emily said:
"When I began my degree, I was very unsure about where my skills lay and what industry I was interested in. I just knew that I loved to create and make. In the middle of my second year I found a passion for sculpting and loved the whole process from sculpting to moulding, casting to painting. Especially realism.
"A lot of people, mostly those who aren't in the creative industry, are unaware of what Modelmaking is and means. So, I decided to make a time-lapse video of me making my first project of third year – a baby Bornean orangutan – as a way of showing what goes into making models. I uploaded it to YouTube and Facebook, which was intended for close friends and family. I received just over 600 views and was happy with that outcome.
"The 'George Takei Presents' Facebook page found my YouTube channel and requested to license my video and publish it onto the page. It was a shock and I was extremely happy with the opportunity and publicity. The first video got licensed and when it hit ONE million I thought it couldn't get much better. But then I made another video of my Final Major project, a hyper-realistic prosthetic mask of Carl Fredricksen and the same happened with that video. From that video, one of the biggest Facebook pages and general entertainment channels, 'LADbible' found my video and asked to make their own version. This was such a proud moment for me!"
Emily said that studying on the BA (Hons) Modelmaking course had been an 'eye-opening experience.' She added:
"I think Modelmaking is a fairly niche subject and not that well known within education. I only found out about Modelmaking as I came to an AUB open day to learn more about the Interior Architecture course and I came across models in the hallway and fell in love with everything about them. I knew it was for me and perfect for my interests and skill-set. I hope that my videos have made Modelmaking a far more recognised subject – I have had many people tell me how I've Inspired them to do a subject like mine and they didn't know it was even possible. In my eyes, this is one of the best things to come from the amazing opportunities that have been presented to me this last month.
"The course was amazing, I've learnt and progressed so much in three years. If someone were to say you'll be graduating with a First-Class Honours degree at the start of the course, I would have laughed. It's all down to the amazing course lecturers and technicians in Modelmaking at AUB that have guided, taught and helped me throughout my degree to become the modelmaker I am now. As well as the support of my friends and family. So, thank you AUB!"
Emily said she will now be taking a well-deserved holiday before starting her new job with Warner Bro's. We wish her all the best for the future.
Graduates from BA (Hons) Modelmaking are now working in an exciting range of careers, from Formula 1 to Star Wars.