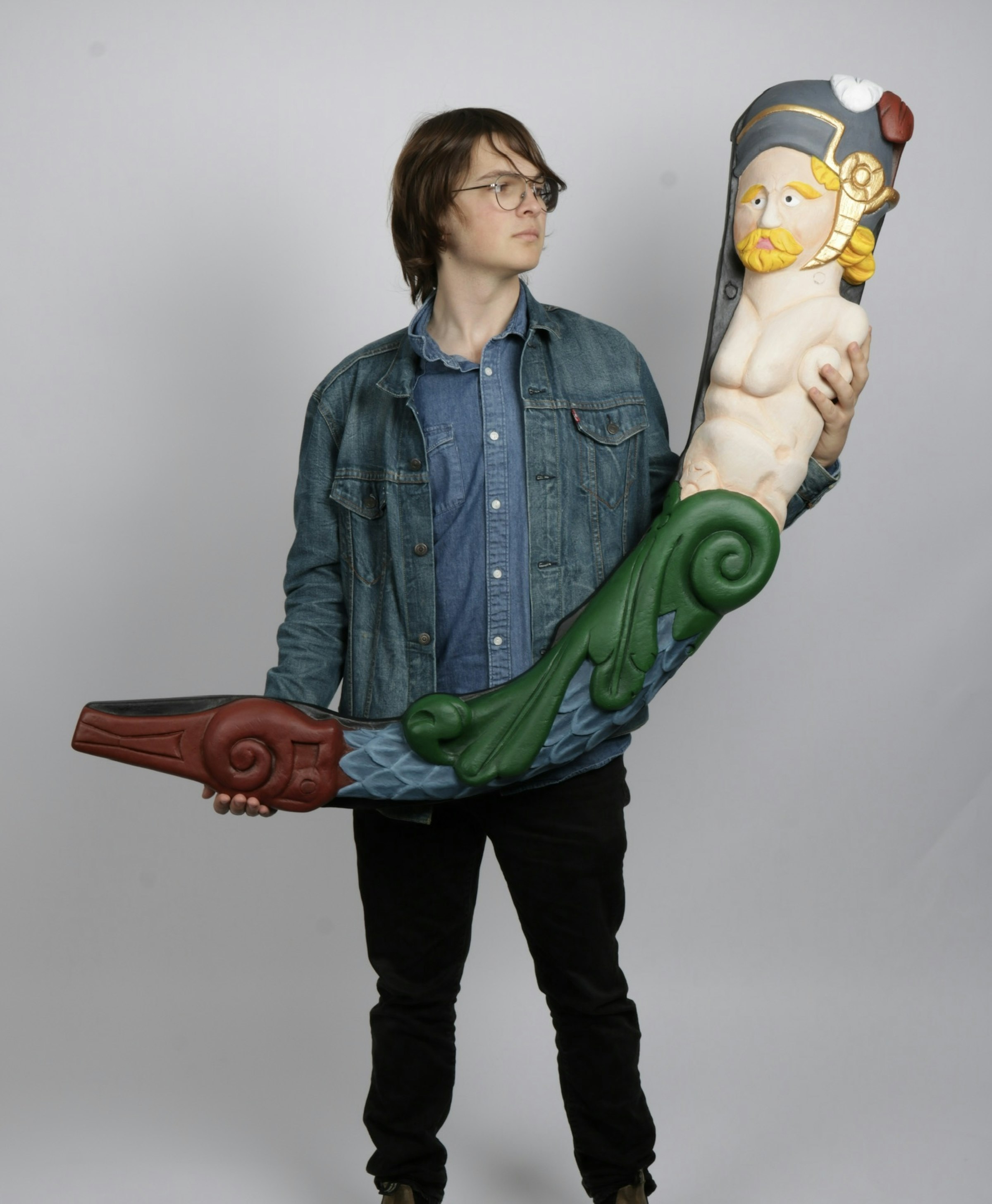 Modelmaking students from Arts University Bournemouth have worked with Poole Museum to bring a host of unique exhibits to life

A group of students from Arts University Bournemouth's BA (Hons) Modelmaking course have worked in collaboration with Poole Museum to create a set of bespoke models to support the Dorset-based museum's restoration and 2023 'Museum on the Move' tour.
The museum, which is currently closed for a £7.7million National Lottery Heritage Funded major conservation and restoration project, will be reopening in late 2024, with the work of students Joan Serra, Sam Arthur and James Brindley being central to outreach when the museum goes on tour this year.
Second year BA (Hons) Modelmaking students Sam and James have created a life-size model Atlantic Cod skeleton, a once plentiful fish breed caught off Poole's coast, now designated as endangered by the IUCN.
Sam said: "Once we began our research, we were quickly taken aback by the size of an Atlantic Cod, which turned out to be almost four feet long! This was my first time working on a model of this scale.
"We laser cut a flat acrylic piece in the outline of the vertebrae and mounted it to a strong steel rod. James got to work on digitally modelling the skull, whilst I began painstakingly moulding each individual vertebra by hand onto the frame we'd created, using epoxy putty."
James said: "A recurring challenge from the start of the project was how we'd approach accurately replicating the complex mix of bones that made up the cod's skull. Since there was no easy way to achieve the appropriate level of accuracy and symmetry from sculpting, casting, or carving for the delicate network of anatomical structures, 3D printing appeared the most structurally sound method to build the skull."
Sam added: "Delivering the model to the museum was a challenge in itself! I built a rudimentary stand from wood and filled the back of my car with cushions to be sure nothing would be damaged. We thank the museum for the great opportunity and hope to do more work with them in the future."

An additional replica model made by fellow modelmaking student Joan Serra will form part of Poole's 'Museum on Tour', which heads on tour across the region's schools and communities, alongside a host of artefacts and exhibits drawn from the museum's extensive collections and archives.
Joan was tasked with the production of a tactile and interactive replica model of an ornately carved handrail, found within the ship's submerged hull, which once linked the quarter-deck to the ship's waist.
The delicate artefact was recovered from the Dorset coastline in 2008 by teams from Bournemouth University (BU) and the Maritime Archaeology Sea Trust (MAST).
Joan said: "At first, the museum considered an exact replica of the artefact, but as an exhibit that could come to live at the museum itself for children to interact with, a painted piece allows for an extra opportunity to touch and explore.
"I suggested that we could have an extra educational purpose through the model being painted – originally this piece would have been vibrantly coloured, so I did some research around other examples from vessels of the era.
Joan added: "It's been great to feel that I've helped to expand people's knowledge on this theme, perhaps also creating some new interest. When you're looking at an old and unpainted wooden artefact, you might not notice it or take an interest, but being able to touch it and see the colours in your hands, you can experience it and have a real sense of its existence.
"We see many museum pieces locked behind glass or stored away, but to be able to interact with a replica brings you back in time. Being part of that exciting learning journey is remarkable; it's phenomenally exciting!"
Graham Wood, Senior Lecturer in Modelmaking at AUB, said: "We started working with Poole Museum last year as part of our Meaning in Making unit, which explores how objects communicate.
"The museum's supplied open brief meant that our students were able to ask questions about how work could be used. Joan's design was carved out of polyurethane foam before being coated with resin and hand painted – a really great work that we were really impressed with.
"Sam and James' work on the life-size cod needed to be convincing-looking but also strongly built, to withstand being displayed and touched. The pair used a combination of vacuum forming and 3D printing with epoxy putty."
Rebecca Rossiter, Museum Manager (Collections and Engagement) at Poole Museum, said: "We are thrilled to have established this link with the BA (Hons) Modelmaking course at AUB. Our collaborative approach to developing our new maritime museums means we can develop exciting partnerships such as this one which can be maintained beyond the project.
"We have been impressed by the creative talent, high quality and professionalism displayed. These fabulous replica items are sure to attract attention and give us the opportunity to start conversations when we take the museum out to community settings and events."