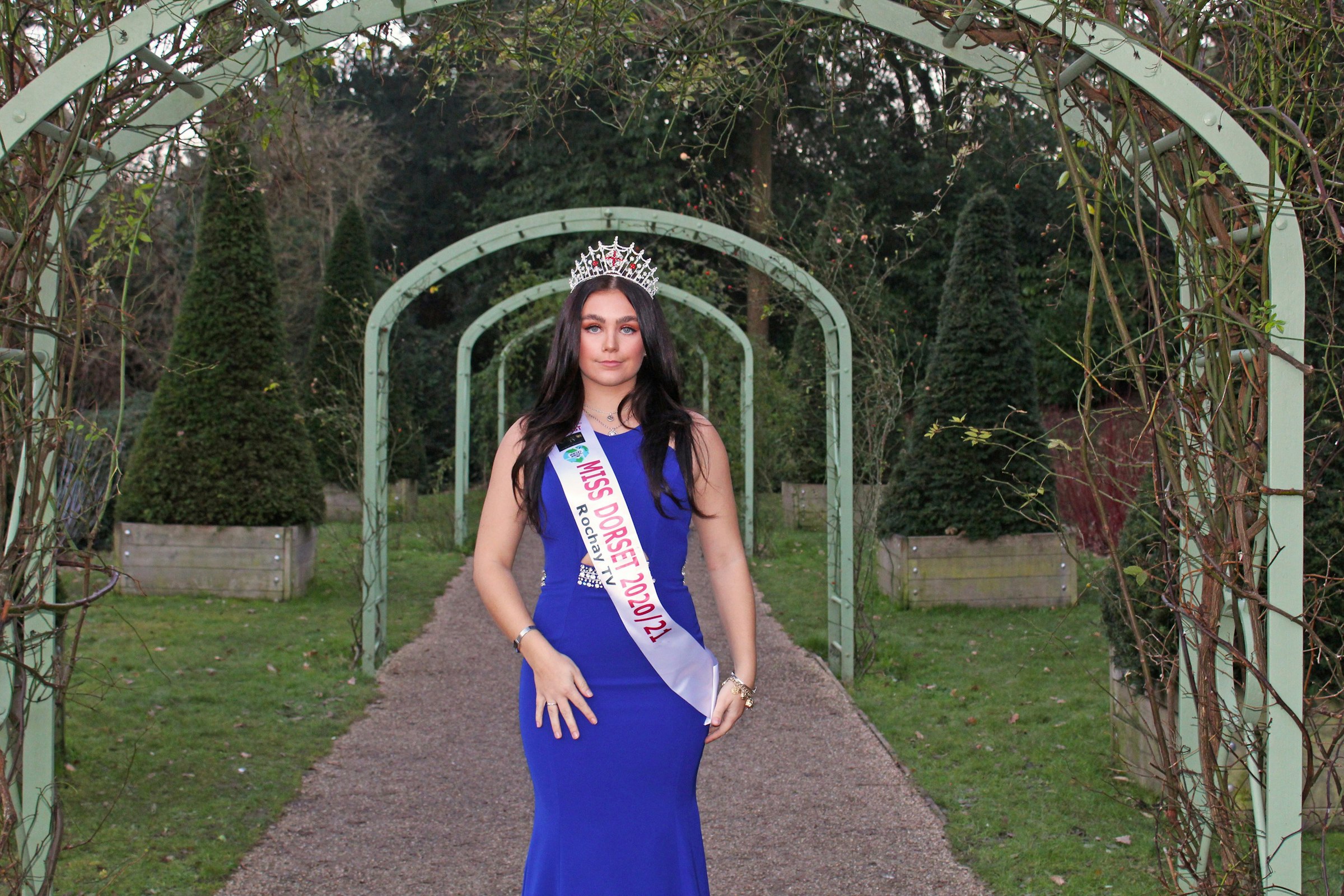 AUB final year Fashion student Alina Green has been crowned 'Finalist of the Year' at the Miss England 2020 competition. Alina's awarding will automatically position her for a top ten place at 2021's event later this year.
Affected by the COVID-19 pandemic, Miss England did not hold a pageant in 2020, but instead selected a winner with a 'Finalist of the Year' award. Alina, who is originally from Bracknell in Berkshire, was awarded the title after an online voting round saw hundreds of contestants upload filmed applications from their homes across the country.
Miss Dorset winner Alina took the top spot after wowing judges with her impressive fundraising efforts, raising more than £10,000 through various charity initiatives, which included Tough Mudder, the Three Peaks Challenge, and sponsored skydives.
The Officer Cadet with the University Officer Training Corps is also busy promoting We Do Ethical's Tree Planting Pledge, which looks at how people can help the world become carbon neutral, and has used her garment fabrication skills learned while at AUB to create eco-friendly and sustainable clothing.
Alina said: "It began when I got scouted for Miss Dorset 2019. Before then I didn't know beauty pageants were a thing in England. Since then, I've fallen in love with the pageant world, and I've loved every moment of it. It's pushed me to do things I didn't think I would do, like some of my fundraising activities, as well as public speaking."


The keen polo player and scuba diver raised funds through lockdown with the production of recyclable facemasks, beach cleans, and an online dog show, and intends to complete bouts of wing walking and bunjee diving later on in the year to raise extra charity funds.
After giving a presentation about her fundraising work, Alina was told that she'd won the competition, and was awarded the 'Finalist of the Year' trophy, along with a raft of exclusive gifts including designer clothing, shoes, make-up, and hair products.
Speaking about her plans for life after university, Alina said: "My dream would be to win Miss England and go to Miss World, but it's a tough competition with so many amazing girls!
"After university I would like to work for a high-end designer such as Stella McCartney, as the brand follows my sustainable ethics, or start up my own brand to spread awareness of the impact of fast fashion.
"I have a lot planned, but I'm just looking forward to where life takes me next after university. My course has set me up well for the working world, it's made me work hard, and Fashion has dealt with the lockdowns very well, despite limited access to campus during the recent lockdowns."
BA (Hons) Fashion Senior Lecturer El Crehan, said: "Alina is a dedicated and hardworking student, with sustainability at the heart of her practise. She's a key player in her academic cohort as Student Rep, too.
"It's always exciting to see AUB Fashion students' success in their extra-curricular activities, and we're very proud of all of Alina's charity fundraising work."
Alina's win could see her compete at the top tier of beauty pageants, with the UK's sole entry for Miss World selected from Miss England winners.