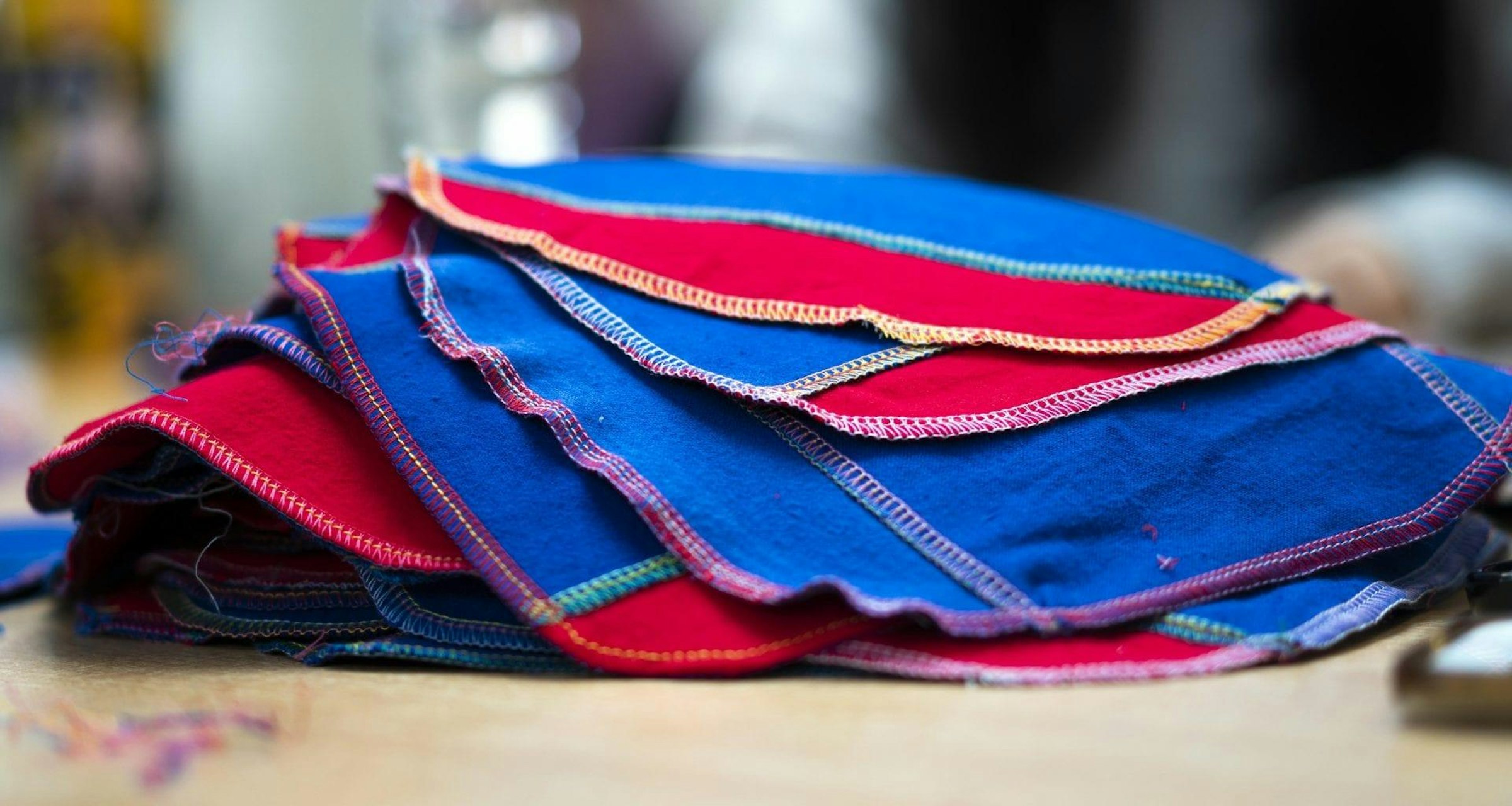 AUB Costume and Performance Design students, along with tutors from across all study levels, came together to collaborate on a day-long manufacturing event, supervised by Level 6 students Maisie Thomas, Eliza Reed and Katy Perks.
The team was also joined by Sandra Sherwood, a permanent member of the Days for Girls team who helped lead the event and share with the students her experiences distributing the equipment in The Gambia.
In the Western African nation, a lack of sanitary products means that on average girls miss 48 days of school a year during their periods, with more than 1 in 10 girls missing school due to poor sanitary facilities.
These sanitary hygiene packs, if cared for correctly, will last for three years and consist of: two shields, eight liners, a dignity bag, a wash bag, a bar of soap, a flannel, and two pairs of pants, all sourced and/or handmade by AUB's costume department.
Speaking about the running of the day, Eliza Reed, Costume and Performance Design student said: "It was a really nice day of everyone collaborating together. People came into university knowing that they were going to make a difference to somebody.
"We had an opt-in policy, so people who came were really passionate about the cause; they intended to be there for a reason."
Now finished, these packs will be taken to The Gambia and distributed to schoolgirls throughout the country.
Student Organisers Maisie Thomas and Eliza Reed visited The Gambia along with tutor Adele Keeley and other volunteers from the Days for Girls programme for 11 days. Here, they successfully distributed 1,070 sanitary hygiene packs to pupils from various schools, educating them on how to use the equipment, the importance of basic hygiene, and basic female anatomy biology.
Maisie Thomas added: "I really like that you're not just making a pack and don't know where it's going to go, we actually saw and met these girls and it was already improving their attendance."
Footage from the trip, along with a rundown of the experience, was presented by Adele Keeley in 20-minute sessions throughout the AUB event: "I think from a teaching point of view, it was really important to bring images and footage of people that they know, fellow students in situations where they were interacting with the surrounding culture, because that's what makes what they're doing worthwhile. Going to The Gambia gave the activity context, within a setting."
Giving back to other communities is a core value of AUB, with the university having formed AUB Human, it's sustainable and ethical initiative, to engage and address some of the most pressing issues facing the world.
Alice Stevens, AUB Human Founder, said: "I am delighted that AUB has the opportunity to support and partner with Days for Girls in their important work to increase access to menstrual care and education for girls in countries that otherwise would go without.
"AUB Human celebrates social, ethical and sustainable creative practice and welcomes opportunities to partner with companies, not-for-profits and charities, in order that we can make a positive difference through creative practice whilst also enabling our students to use their specialist skills as a force for good at helping the global community."
Read more about AUB's BA Performance Design and Film Costume and BA Costume programmes.