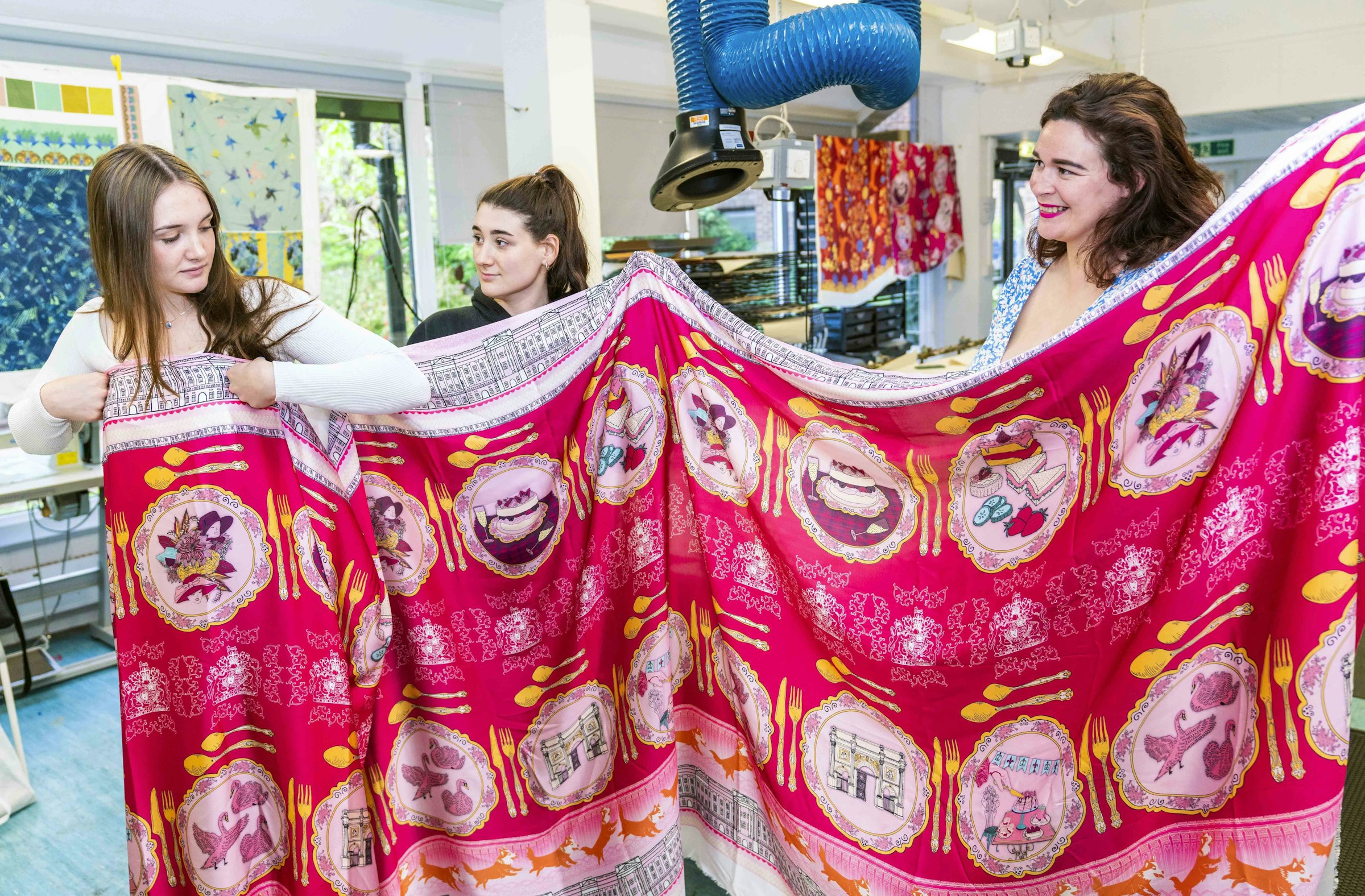 A group of fifteen Textiles students from Arts University Bournemouth have designed an iconic sari that will feature at HM The Queen's Platinum Jubilee Pageant on Sunday 5 June.
Produced using fully sustainable fabric, the five-metre garment features corgis, afternoon teas and Buckingham Palace, and has been selected by Diana Princess of Wales' personal designer Paul Costello.
AUB's Textiles and Events Management courses were approached by arts organisation Nutkhut to design the textile and manage the process for the production of the sari for a segment of the procession called The Wedding Party, where two custom-made four-metre-high puppets will stand alongside a six-metre high four-tier model wedding cake, accompanied by dancers wearing the AUB garments.
The Wedding Party celebrates the universal joy of families and communities uniting through the coming together of two people. Drawing on the collective talent of Mela, it will be performed in an elaborate Bollywood style, by two hundred and fifty wedding guest performers of all ages, from London and across the country.

The project began with the whole of the University's undergraduate Textiles course drafting ideas and designs, before final chosen motifs were selected featuring the work of fifteen 2nd year BA (Hons) Textiles students, including Gemma Arnold-Baker.
Gemma said: "Alongside collaborating with my group on every aspect, I designed the layout for the imagery of the crest and the fine detail that is featured in the middle of the sari. I am excited to see the saris in the parade; it's the experience of a lifetime to have this opportunity, and one not to be missed.
"It's an amazing experience to have the opportunity to take part in such a special event such as the Queen's Platinum Jubilee, and I feel honoured to have done so.
"I was lucky enough to experience in-person Her Majesty's Golden Jubilee and know of the importance and love of the people who come together to celebrate such a special moment, so I'm extremely happy that my group's work features in one of the chosen designs."
Simmy Gupta, Nutkhut's Co-Artistic Director, said: "To re-imagine the sari, a timeless garment for the Queen's Platinum Jubilee Pageant is both an honour and a joy! We have been playful, yet considerate in our designs and to collaborate with Paul Costelloe and for that outcome to be presented on sustainable fabric, is a true legacy for our future generations."
The saris have also now been posted to cities across five continents including Commonwealth countries, where they will be worn by individuals in front of iconic locations like New York's Brooklyn Bridge, Sydney Harbour and Rome's Colosseum.
One of the saris will then head to an exhibition planned to take place in Poole commemorating the conurbation's role in HM The Queen's Platinum Jubilee celebrations.