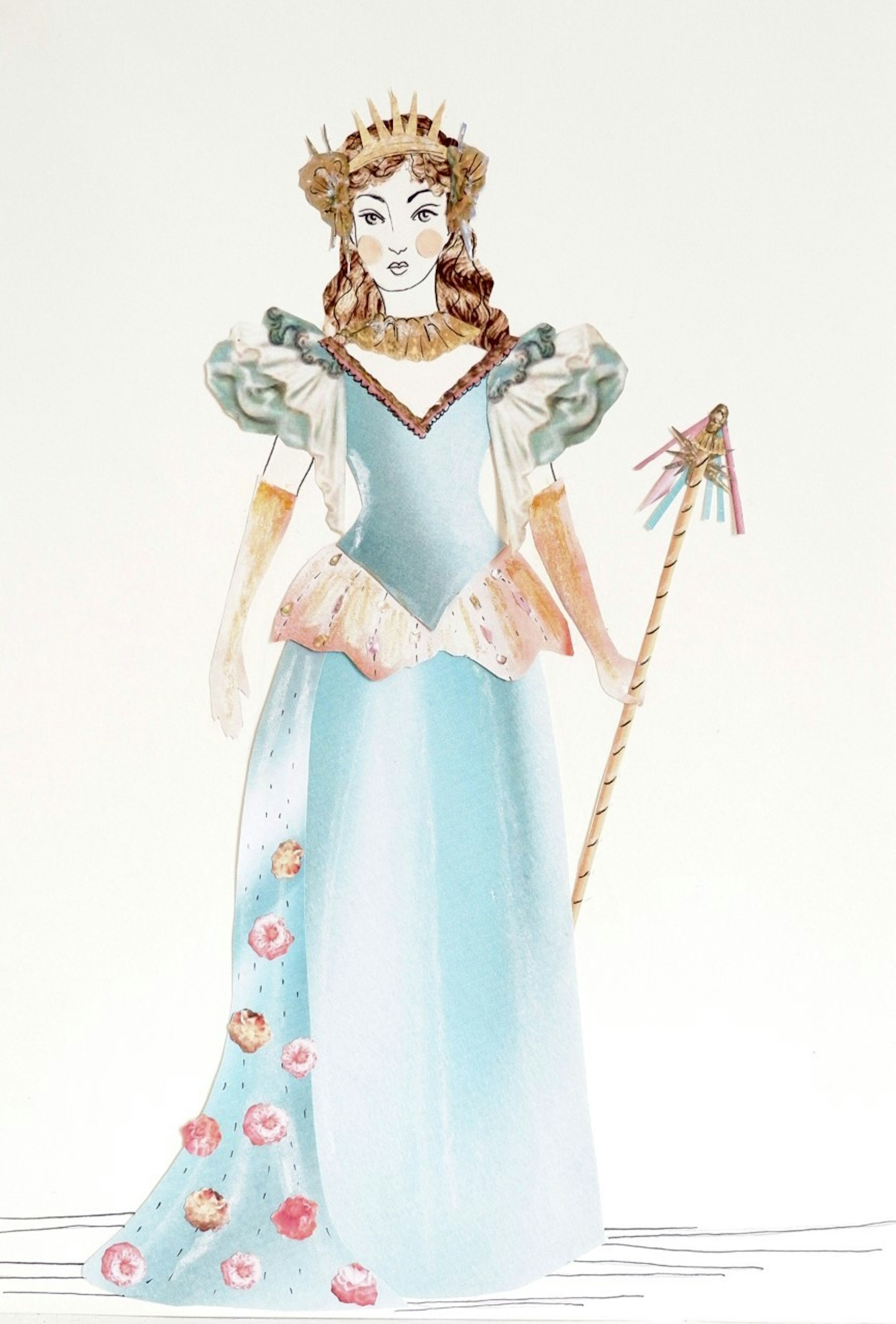 When theatre and events stopped due to the restrictions, I thought spending my time working on an MA would probably be a very good idea. I saw that AUB had a new Historical Costume MA which seemed to be exactly what I was looking for. Bizarrely, working on my MA during the pandemic was the perfect timing for me.
Having worked in the industry for a few years after my BA, the idea of going back into education did feel a little daunting, however the engaging and encouraging atmosphere of the course made it easy to transition, and I thoroughly enjoyed being able to spend a whole year focusing on my own work in a subject I have a great interest in.
Whilst working professionally within theatre and live events, creativity can sometimes take a slight backseat, with practicality, time and budget constraints, as well as the sometimes compromising nature of collaborative working all having to be taken into consideration. Studying this MA allowed me the opportunity of complete creative control without compromise. It was up to me to decide the direction of every element of each of my projects, which was such a refreshing way of working and a very rewarding experience. It allowed me to consider my own work not only as a costume practitioner, but also as an artist. An MA can be a great opportunity to experiment within your art, and to discover exactly what you can achieve when you are allowed to exert full creative freedom into your own projects.
As a costume designer myself, I was able to go back and really examine my practice, and experiment with my ways of working, thinking about different techniques and modes of artistic craft which could be used to create costume designs. It gave me time to practice different mediums and ways of drawing, so I could confirm my own preferred way of working as an artist.
The structure of the year is that of three main projects, with the first being a chance to explore and experiment with your practice, and the other two focusing more on your chosen Master's project. All throughout the year the tutors also organised some really engaging lectures and workshops to help students gain a better understanding of general historical fashion knowledge as well as talks from industry professionals. The course had a great environment to explore whichever area of costume history is of particular interest to you, with the encouragement of such understanding and supportive staff who are there to guide you through your projects, so you are able to spend time really researching into your area of interest and gain expert level knowledge in your field.
My own personal interest within costume history is nineteenth and early twentieth century fancy dress costumes. Fancy dress has always been an area of costume which interested me, but is relatively undervalued and under-researched. I used my MA as an opportunity to investigate this subject, linking historical findings through research to my own creative design work. Being able to devise my own assignments with the guidance of the course staff meant I could put together my projects in which ever way I wished. I ended up designing, making and completing written work such as essays and case studies. I thoroughly enjoyed being able to work in all three areas, but others on the course chose to work differently, some focused on making, some on designing, some on written work, and some a mixture like myself. One of the most enjoyable elements of the course is this flexibility, meaning you can focus on completing work that you personally really like creating. The lecturers were particularly helpful, suggesting potential research resources and always willing to offer advice or assistance. Their varied expertise meant that whether help was needed with designing, making or contextual studies, they could always support students in whatever they needed.
Within my research I considered the identity and purpose of nineteenth-century fancy dress, whilst creating work which I felt related to myself personally. Being able to choose the nature of my project meant that I ended up designing, making, modelling, photographing and editing my own version of nineteenth-century fancy dress costumes. I was also able to experiment with event design, conceptualising and designing the decorations for my own version of a nineteenth-century fancy dress ball. I have always wanted to turn my hand at designing event decoration, and this course gave me the encouragement to try it out a little.
I was also lucky enough to organise a visit to Chatsworth Estate textile archive, where I was able to view an original nineteenth-century fancy dress costume, which was pivotal to my research. In the first term I learnt how to study, handle and assess archival costume pieces through a garment observation workshop organised by the tutors. I was then able to apply what I had learnt when I studied the fancy dress costume at Chatsworth, which was not something I had known how to do before, and so the course equipped me with some new skills and know-how.
At the end of my year of study I had completed quite a large body of varied work, and it was a much larger undertaking than anything I imagined myself doing when I first applied for an MA. I surprised myself with the kind of large scale projects I completed and the kind of work I produced, but I think it was great that I was inspired enough to engage in work that pushed me to try new things and create art I had always wanted, but hadn't before had the opportunity to. I am so glad I decided to apply to study Historical Costume for my Master's. Studying with AUB gave me a real confidence boost and faith in my work and abilities. It also gave me a time to think about how I want to progress my career working in the arts, and having an MA opens up certain job opportunities which may have otherwise not been as available to me.