You are using an outdated browser. Most of this website should still work, but after upgrading your browser it will look and perform better.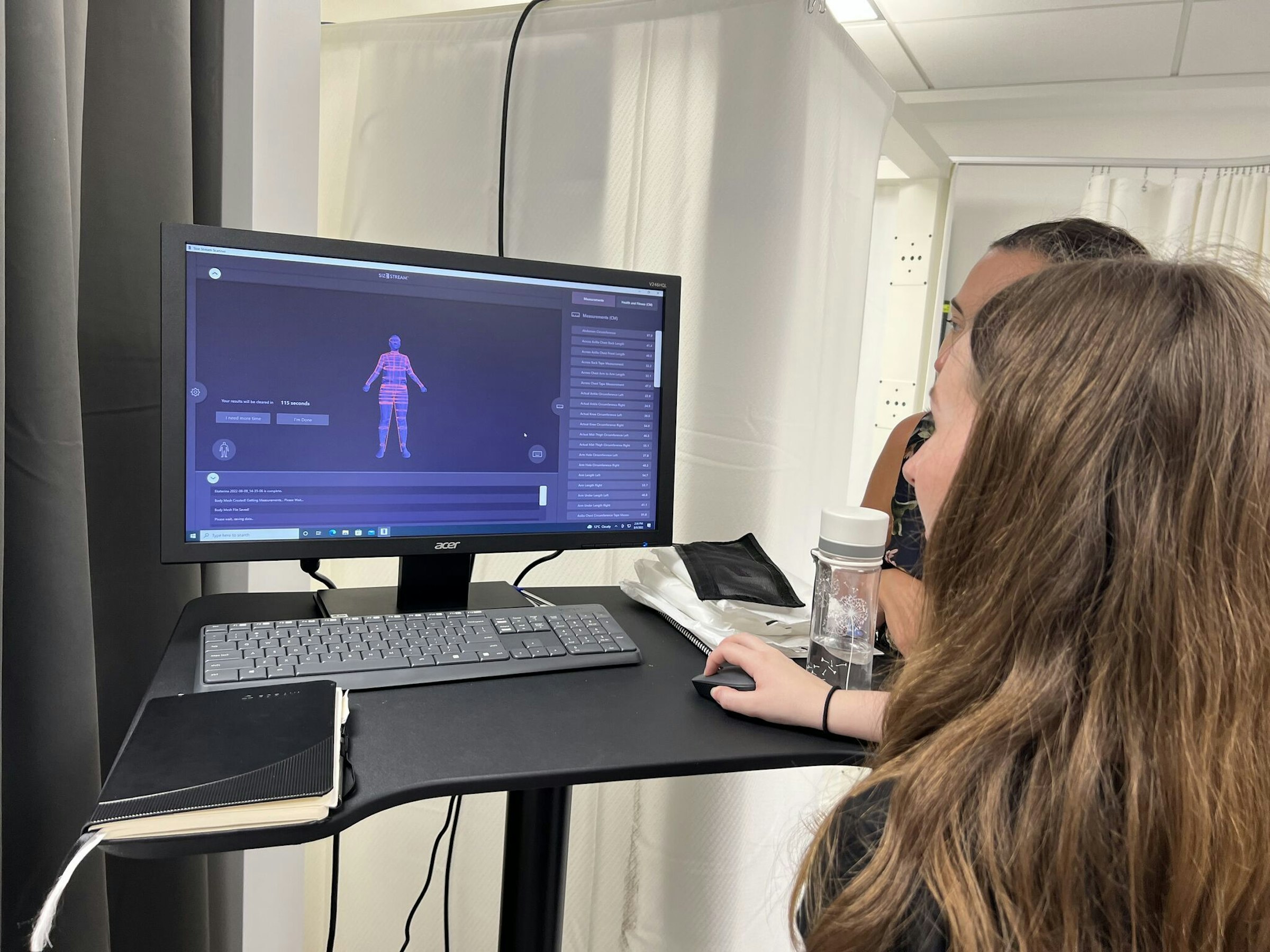 Innovation Studio
Introduction to Body Scanning and CLO 3D
Industry-engagement and our strong maker culture puts collaboration at the heart of everything we do.

Introduction to Body Scanning and CLO 3D
Body scanning and 3D design will revolutionise the fashion industry.
Body scanners capture precise measurements of the body, and when combined with 3D design software such as CLO 3D these resources create state-of-the-art high-definition avatars that allow designers and makers to apply clothing patterns to these custom fit models, aiding with bespoke and high-volume manufacturing.
About this course
On this course you'll receive a comprehensive introduction to body scanning, using Size Stream® SS20, and learn how to take body measurements and turn them into a custom fit model using CLO 3D.
You'll also have the opportunity to create a garment for your avatar within CLO 3D – a leading garment design software that enables sustainable and remote working within the product development process.
If you're interested in this course, get in touch and the team will contact you to arrange your course.
On this course you'll be given a comprehensive introduction to either body scanning or using CLO 3D, or both to suit your requirements.
You'll be shown how to competently navigate the interface of each piece of software and the accompanying equipment.
During the workshop you'll be expertly guided by your tutor, Kyra Gibson, through the body scanning process from start to finish using a model so you can appreciate the process from a hands-on point of view.
You'll learn how to use the measurements captured by the body scanner and feed them into CLO 3D to commence the design process. In the software you'll create a virtual garment for your avatar, exploring fit and finishings to customise your design.
As part of the design process, you'll experiment with different fabrics and understand how they flow and sit on the body to help you fine-tune your designs. You'll also test different colour-ways and play with texture and trimmings to bring your designs to life.
The body scanner within AUB's Lab 4 Creative Technologies is the Size Stream® SS20:

20 safe infrared depth sensors capable of full length 3D body scans
Complete touch screen monitor and computer system running Microso 
Windows 10 based applications for ease of use
Two nickel-plated steel variable height stability handholds
Privacy enclosure including changing room
Scan time: < 8 seconds
Data processing time: < 120 seconds
Circumferential accuracy (cylinder test): < +/- 5 mm
Surface data density: ~ 1 mm by 1 mm > 1.5 million points for full body
Scan Volume: 2 m height by 0.95 m width by 0.8 m depth
Automatic extracted measurements: > 600 data points including
3D XYZ landmarks, circumferences, lengths, surface areas, and body volume
The Size Stream 3D body data sets include 240 unique measurements in every scan. A 360° view of the body provides unparalleled body data integrity, necessary for providing size recommendations, designing new patterns, and producing made to measure apparel.
CLO 3D is a leading fashion design software enabling the creation of virtual, true-to life garments. With its cutting-edge visualisation technologies, you can create true-to-life 3D garments testing fit and function, to perfect your ideas before they go into production.
The robust simulation engine allows you to create a style with countless layers and intricate details. You can design a variety of garments, from simple designs, to technical pieces with complex patterns and construction. The software is widely used within industry to produce samples from clothing garments to accessories such as hats, bags and small leather goods.
Using this software enables edits that update in real-time, reducing the time for garment adjustments and eliminating the volume of waste from physical fabric samples due to the need for less physical prototypes.

All course materials, software, and resources are included in the course fee. You'll be taught in AUB's body scanning suite that's part of our Lab 4 Creative Technologies.
Learn more about body scanning
Explore the Innovation Studio