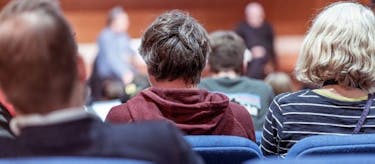 Sam Howell is a local business consultant who has helped many companies develop and thrive. Over the last few years he has worked closely with AUB students to guide them through the first steps of starting their businesses. If you've got an idea and are not sure about how to get started turning it into a business, don't miss these talks!"
"I started going to the career talks by Sam and took a lot away from each of them. We have kept in regular contact regarding my idea for a cosmetics line and he has been a huge help and a positive influence on my idea development and has pointed me in the right direction of how to manage my workload.
One thing I love about Sam is he always makes time to talk to me if I ever need advice or if he wants an update to see how I'm getting on which keeps me in good spirits about my work as starting a business can be very daunting" Sophie Muir, Make up For Media & Performance L6 2020
This first session is all about preparing for working for yourself/running your own business.
Becoming a freelancer/sole-trader or starting a company is challenging in many ways and it requires a certain set of skills in order for you to be successful. Here are a few questions we'll be covering:
What skills do I already have?
What skills do I need to possess?
What gaps do I have in my knowledge?
What do I need to have in place before I start?
Do I have what it takes?
To attend, just register and sign up on aub.jobteaser.com for more information go to aub.ac.uk/employability and follow us on Instagram @aubcareers