You are using an outdated browser. Most of this website should still work, but after upgrading your browser it will look and perform better.
Our strong maker culture puts collaboration at the heart of our everything we do

Introduction to Design in VR using Gravity Sketch
This half-day exciting course is offered as part of AUB's Executive Education programme, and aims to enhance and upskill your design capabilities by introducing you to one of the world's leading 3D design platforms, Gravity Sketch.
In this introductory course you'll be expertly tutored by one of the world's only accredited Gravity Sketch Instructors to use Gravity Sketch and create 3D designs using a wide variety of digital tools in Virtual Reality. This is a unique opportunity as only a limited number of universities offer VR courses in Gravity Sketch. No prior knowledge of Gravity Sketch is required.
Secure your place today by clicking 'book now' to download our course booking form, or get in touch if you have any questions.
About this course
This half-day executive masterclass will introduce you to the foundations of designing in Virtual Reality (VR) using Gravity Sketch software, an intuitive 3D design platform for designers and cross-disciplinary teams.

You'll benefit from the full version of Gravity Sketch that's used by top brands such as Adidas, Ford, Reebok, Nissan, and Netflix. It's recognised as a very intuitive tool that enables you to create simultaneously with other designers across the globe. It's becoming a phenomenon especially in footwear and the automotive industry, as well as in media and theatre.
You'll be taught by one of only four Certified Gravity Sketch Instructors in the world. You'll receive a Gravity Sketch badge upon completion of the course. There's a limited number of universities that offer VR courses in Gravity Sketch.
The course is suitable for designers, entrepreneurs and modelmakers that are seeking to experiment and test out how design tools can be used in VR.
The digital industry is rapidly growing with more job opportunities for people with skills in VR and 3D modelling. If you're looking for a career change but don't know where to start this course could open your eyes to new horizons in the digital world of creation.
During this course you'll experience the advantages and vast potential of 3D modelling in Virtual Reality. You'll create multiple colour variations of sneakers and place them into virtual retail space. You'll imagine what it's like to sit down in store where your designs are being sold and experience what it's like to be a footwear designer.
By the end of this course, you'll have knowledge and practice of how to customise a product using the tools and functions of the virtual workspace.
You'll also develop hands-on technical skills within your own virtual workspace, providing a solid foundation to designing in VR.
Ekaterina Savosina
Footwear Consultant at Gravity Sketch

Ekaterina is an accredited Gravity Sketch Instructor, meaning she's recognised globally as a professional designer and educator, with expert knowledge of the software. She's one of just 4 instructors worldwide that currently hold this credential. After successful completion of this course, Ekaterina has the authority to award the digital Gravity Sketch Badge to you.
A self-starting innovator, entrepreneur, and designer with 8+ years of experience in footwear and 3+ years in VR, Ekaterina uses the latest in technology, sustainable solutions and break-through materials to create unique products that connect to consumer needs. She uses an in-depth knowledge of CAD, VR, and technical design to breathe life into ideas.
She is the owner of Design in VR – a provider of educational tutorials for footwear, fashion, and product design to upskill talent in VR Design.
She's recognised worldwide as an expert in her field, having been interviewed on YouTube live by Gravity Sketch. She's gained further recognition by being selected for 1 of 4 International Women's Day speakers and also named as Gravity Sketch Power User 2021.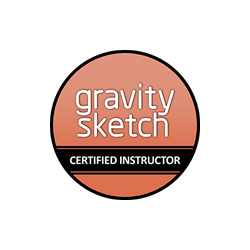 Course dates
Please note that when you book your place you'll be asked to select which date you'll attend. You only need to attend one date to complete the course.
This half-day course will be run on the following dates:

January 2022
| Date | Time |
| --- | --- |
| Tuesday 25 January 2022 | 9.15 – 13.00 |
| Thursday 27 January 2022 | 9.15 – 13.00 |
February 2022
| Date | Time |
| --- | --- |
| Tuesday 22 February 2022 | 9.15 – 13.00 |
| Thursday 24 February 2022 | 9.15 – 13.00 |
March 2022
| Date | Time |
| --- | --- |
| Tuesday 22 March 2022 | 9.15 – 13.00 |
| Thursday 24 March 2022 | 9.15 – 13.00 |
Capacity
This course can accommodate up to 6 students at one time.
If you'd like to book for a team of 3 or more, please contact us.
Course fees
The fee for this course is £200 + VAT (per person)
All course materials, software, and resources are included in the course fee. You'll be taught in AUB's VR suite that's part of the state-of-the-art industry-standard Innovation Studio.
You'll be provided with an Oculus headset and controllers, as well as a course handbook.
This course is an introductory session so you're not required to have any prior experience or knowledge using Gravity Sketch and/or VR.
The only thing we ask is that you share AUB's passion for the creative arts and innovation.
We want you to share and learn no matter what your background or previous experience is. This course is highly practical and written for those with a keen interest in upskilling their design skills.