Back to Industry News
Students
create
innovative
tree
installation
for
Ojo
Rojo
Two third year BA (Hons) Modelmaking students, Phyllida Swift and Nic Browne, recently completed an installation for new Bournemouth restaurant, Ojo Rojo.
Phyllida and Nic were commissioned to build a bespoke installation for the new Mexican-inspired healthy eatery by co-owners Trevor Hill and JJ Adams, after making the door handles for the restaurant.
The installation was part of their Final Major Project and saw the duo create a tree for the inside of the restaurant, designed and built using existing materials from the original building.
You can take a look at Phyllida and Nic in action here: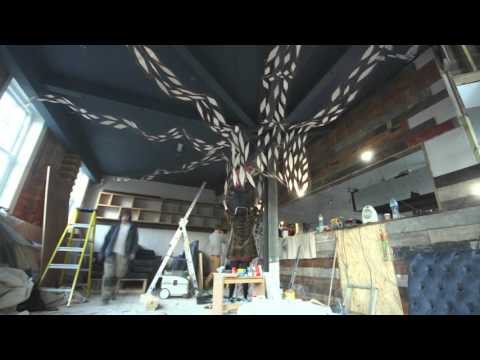 Phyllida said: "It took Nic and I three months of working solidly on each element to get everything finished. We started out with mood boards and sketches showing colours and materials, which in the end consisted mainly of copper wire, chicken wire and calico. 
We made each of the 300 wire leaves by hand. We started out by spot welding the shapes in copper-coated steel rod and we had to cut, overlock and tack a piece of calico that matched up to the exact shape of the leaf for each one.
When it came to installing the tree, we simply used carabiners and wire that we had fixed into the existing ceiling beams.
It wasn't quite the Sistine chapel, but it involved a lot staring up at the ceiling. 
We used the wire that we found on site for the tree, painstakingly stripping the plastic coating off of each individual wire, before twisting into coils. Needless to say, our hands ended up like that of a builder/rhino! 
It was all made worthwhile by the feeling of being able to stand underneath all our work and truly experience that romantic, enchanting atmosphere that we were going for."
You can read more about the project on Phyllida's website here.
For more about Ojo Rojo, visit their website. You can also follow the restaurant on Facebook here.