Back to Industry News
Costume,
Vis
Com,
Film
&
Acting
collab
on
#ShakespeareSuperhero
What if Superheroes were around in Shakespearean times?
The BA (Hons) Costume and Performance Design course has transformed DC Comic superheroes such as Batman, The Joker and Catwoman and reimagined them as Shakespearean characters in full Jacobean costume complete with ruffs, patterned silks and ornate cuffs and collars. The project is to commemorate the 400th anniversary of Shakespeare's death on 23rd April 2016 and to celebrate the release of two DC movies this year – Batman v Superman in March and Suicide Squad in August.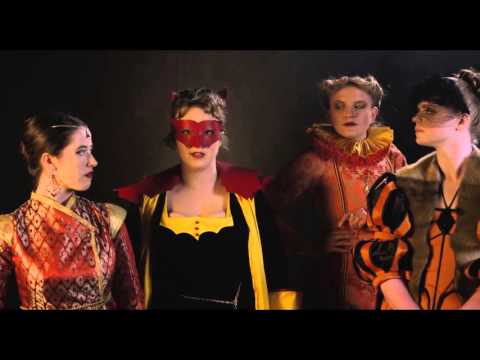 A series of male and female costumes were designed by AUB lecturers Will Hargreaves and Bunny Winter and made by second year students under the guidance of tutors Mandy Barrington and Katerina Lawton. Each design involved the construction of either a doublet or bodice but fused Jacobean period costume with iconic superhero colours and motifs.
Fabrics appropriate to the period such as silks, wools, linens and leather were sourced from London and primary research was carried out at the V&A's archive where students were able to access original 17th Century garments.
The images were photographed by AUB alumnus, Andy Bate who created a dark, rain-drenched world for the characters, who were played by students from the BA (Hons) Acting course. Then, students from the BA (Hons) Visual Communication course took famous Shakespeare quotes and integrated them with the characters.  At the bottom of each image, the character and play the quotation is from is revealed in the style of a collaboration for example 'Batman X Hamlet' along with the hashtag #ShakespeareSuperhero. The project was executed under the guidance of Mark Sephton of creative agency, Creative Forager.
Will Hargreaves added: "The idea was to celebrate Shakespeare in a fresh way by reimagining what DC comic characters would look like if they had been around in the Jacobean era – it was a hugely successful experiment and these costumes provided a great way to introduce his work to a new audience."
The course's next project is, "Jambusters", a short feature film celebrating women's efforts in WW2.