Touring
Exhibition
–
Black
Mirror:
Magic
in
Art
*Please note, this exhibition is currently unavailable for tour. Please check back for more information
Curated by Dominic Shepherd
TheGallery, AUB
Black Mirror: Magic in Art explores the influences and roles of magic, enchantment and the occult in contemporary art and how they function as aesthetic, conceptual and political forces. Through a multi-disciplined curatorial approach of 2D, 3D, film, video and performance art, Black Mirror will showcase the work of fourteen internationally recognised artists.
Modernism was built in the late nineteenth century, we live within its legacy; the same period created the foundations of modern magic as it is practised and understood today. The magical and occult have been much marginalised within the scholarship of twentieth century art, seen in opposition to enlightenment and progressive values. This exhibition challenges this premise, taking fourteen artists whom draw on the magical to propose that enchantment and occult are intertwined with contemporary issues.
Covering a period over the last thirty years a magical aesthetic is intrinsic to an engagement with environmentalism; feminism; gender; post-digital; neo-liberalism and nationalism. Black Mirror is an exhibition where the magical, occult and enchanted are activated as progressive forces that question and direct the flux in this uncertain age.
exhibiting artists
Jesse Bransford, Clinical Associate Professor; Department Chair, NYU Steinhardt
Siân Bowen, Professor of Drawing, AUB
Lindsey Bull, Artist
Tom Butler, Artist
Willem de Bruijn, Senior Lecturer in Architecture, AUB
Tessa Farmer, Artist
Heywood and Condie, Artists
Jason Martin, Artist
Judith Noble, Associate Dean Media, Plymouth College of Art
Paula Rego, Artist
Dominic Shepherd, Associate Professor Fine Art, AUB
Mark Titchner, Artist
Suzanne Treister, Artist
Marie von Heyl, Artist
Meet the exhibition curator: Associate Professor Dominic SHepherd
Dominic Shepherd is Dorset based Artist and Senior Lecturer in MA Fine Art at the Arts University Bournemouth. He studied at the Chelsea School of Art and graduated with both a BA and MA in Fine Art. Dominic is a prize winner of the 2004 John Moores Prize, a prestigious prize that showcases avant-garde paintings. In 2008, he undertook a research fellowship at AUB and in 2015, he was made an Associate Professor at the University.
He has exhibited internationally with an extensive record of group and solo shows in London, New York, Berlin and Los Angeles and is represented by Charlie Smith London. He has also been included in and written for, various publications.
Dominic is presently the co-coordinator (with Judith Noble and Jesse Bransford) of the Black Mirror Network that explores the influence and role of Enchantment, the occult and magic in modernist and contemporary art.
MEET THE Publication CURATOR: Dr. Willem de Bruijn
Willem de Bruijn is a Senior Lecturer in Architecture at the Arts University Bournemouth, where he teaches Contextual Studies and supervises research degrees. He holds an MSc in Architecture (2001) from the TU Delft and a PhD in History and Theory of Architecture (2010) from The Bartlett School of Architecture, London. Willem previously co-curated several research-led exhibitions at The Bartlett School of Architecture and is currently publication curator and designer for the catalogue accompanying the Black Mirror exhibition.
As part of his doctoral research, Willem investigated the historical and conceptual connections between architecture and alchemy, focusing on texts published during the early seventeenth century (the literary baroque). He has made books incorporating material drawn from these sources to construct spaces for contemplation and wonder in the largely forgotten tradition of the emblem, a favourite medium of literati, occultists and alchemists alike. The Black Mirror: Magic in Art publication will again revisit this tradition through its emphasis on the interplay between the verbal and the visual in its design.
---
Touring venues
The exhibition will be available for tour, for enquiries and further information please contact: thegallery@aub.ac.uk
The Ancient Art of Rituals: Palo Mayombe
TheGallery at the Arts University Bournemouth presents as part of Black Mirror: Magic in Art, the documentary, The Ancient Art of Rituals: Palo Mayombe.
In response to the exhibition, staff and students from AUB performed their interpretation of the Palo Mayombe ritual dance that originated in Cuba. The performance was part of The Ancient Art of Rituals event held on 18 January 2018 and has been adapted into an art film showing behind the scenes with the curators and dancers.
The documentary goes into more depth about the ritual dance and its origins and features interviews with each of the dancers and the exhibition organisers. It will be featured on display as a part of the touring exhibition.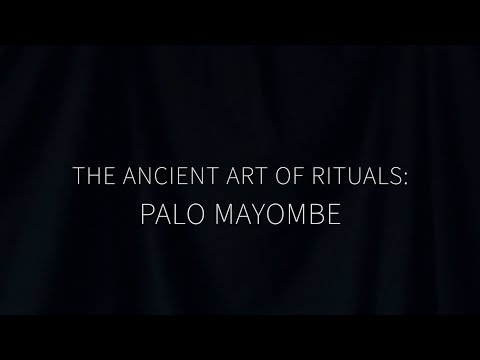 ---
Black Mirror Featured Publication
Black Mirror: Magic in Art features works and biographies by the artists participating in the Black Mirror: Magic in Art exhibition hosted by TheGallery, AUB. It also contains an introduction by Dominic Shepherd, which contextualises the work on display; a contribution by Professor Emma Hunt, AUB; and essays by Jesse Bransford and Willem de Bruijn that open up further avenues of investigation into the realm of magic, art and architecture. Not exactly a conventional exhibition catalogue, the publication aims to present a selection of work within a space different from that of the gallery, but equally committed to bringing about thematic connections between the artists and their work.
Black Mirror: Magic in Art
Published by text + work, TheGallery, AUB
2017, Softcover with images
Publication includes contributions by Associate Professor Dominic Shepherd, Willem de Bruin and Professor Emma Hunt
ISBN 978-0-901196-77-4
Available to purchase from TheGallery Office or the AUB online store