Entry
Requirements,
Portfolio
and
Interviews
Entry Requirements
We accept a wide range of qualifications, which are outlined below:
Entry to a Foundation course usually follows two years of sixth form study, but we also consider relevant and equivalent Level 3 qualifications.
To study on the Foundation course, you'll need:
5 GCSE or IGCSE passes at Grade C/Grade 4 or above. These should include a relevant Art, Design or Media subject and must include Maths and English.
Due to recent changes in government funding, home and EU applicants who are under 19 when the course starts must hold GCSE/IGCSE Grade C/4 or above in English and Maths to be able to enrol onto this course.
If a student does not have IGCSE/ GCSE Maths and English at Grade C/4 or above and they are under 19, then we will not receive funding. We are unable to enrol applicants who do not hold these qualifications or an acceptable equivalent.
We are unable to accept Functional Skills, Key Skills or ALAN (Adult Literacy and Numeracy) tests in place of Maths or English from applicants who will be under 19 when the course starts.
You'll also need one of the following:
A minimum of two GCE A-Level passes at Grade C or above.
Two BTEC Subsidiary Diplomas/BTEC Extended Certificate at Merit, or a combination of BTEC Subsidiary Diploma/BTEC Extended Certificate and A Level qualifications.
An IB (International Baccalaureate) score of 24 or above. We'll accept the equivalent in relevant individual IB certificates.
A BTEC/UAL Extended Diploma Merit.
A BTEC/OCR (Tech) Extended Diploma at Merit, Pass.
If you are an applicant from the EU, you must also hold equivalent Level 2 qualifications in Maths, as assessed by NARIC, and an appropriate English Language qualification.
---
Your portfolio
We also ask you to bring a portfolio of your creative work with you. It's a good idea to speak to your art, design or media teacher about what to include in your portfolio. We like to see a broad range of work, so that we can assess your potential.
It's important that you read our portfolio guidelines too, as these explain exactly what we're looking for in a portfolio.
If you need us to organise a projector or a computer, please let us know in advance. You can call +44 1202 363228 or email us on admissions@aub.ac.uk.
Check out the video below by Head of School, Bea Denton, sharing her top tips on preparing your portfolio: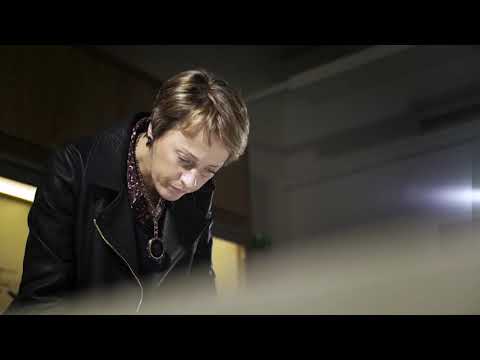 ---
Interviews
If you meet our entry requirements, we'll invite you to an interview. We encourage you to come along to one of our Open Days, so you can get a real feel for our campus and understand more about the course.
format of the day:
You'll be collected from reception and taken to the Foundation building.
There'll be a group introduction to the course.
You'll be asked to leave your portfolios with staff while you go on a tour of the Foundation facilities. While you're out, the Foundation staff will review your portfolios ready for when you get back.
After the tour you'll join them for a group interview.
Overall, the whole process should take around two hours.
It's an opportunity for you to talk about your portfolio, and your influences in art, design, media, performance and other cultural interests such as cinema, theatre or literature.