MA
Commercial
Photography
Seminar
Day
Entitled Art & Commerce – striking a balance, the 2017 Photography Seminar Day took place at The Photographers' Gallery, London.
Speakers: Julia Fullerton-Batten, Laura Pannack & Jane Hilton
The seminar brought together three highly talented photographers whose practice combines fine art and commercial work. All three use personal research projects to explore their own creative artistic potential and to showcase their talents. Each of the speakers will give a talk and then all three will be in conversation.
This free event was run by the teaching team of the MA & BA Commercial Photography. You can watch the seminars here: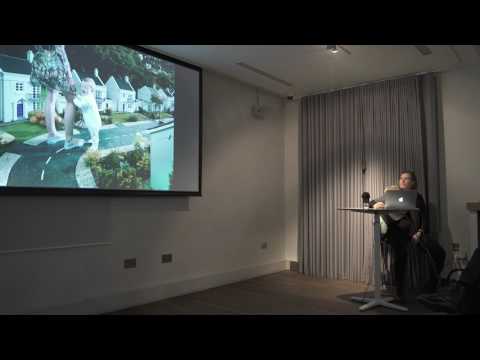 About the Speakers 
Julia Fullerton-Batten
Julia is a worldwide acclaimed and exhibited fine-art and commercial photographer. Her body of work now encompasses twelve major projects spanning a decade of engagement in the field. The foundation of her fine art success was 'Teenage Stories' (2005), an evocative narrative of the transition of a teenage girl to womanhood. Julia's use of unusual locations, highly creative settings, street-cast models, accented with cinematic lighting are hallmarks of her very distinctive style of photography.
She insinuates visual tensions in her images, and imbues them with a hint of mystery, which combine to tease the viewer to re-examine the picture, each time seeing more content and finding a deeper meaning. These distinctive qualities have established enthusiasts for her work worldwide and at all ends of the cultural spectrum, from casual viewers to the collectors of fine-art photography.
In 'Feral Children, 2015' Julia narrates the stories of fifteen cases of feral children spanning the 18th to the 21st century and involving a variety of different circumstances – some left or neglected by their parents, others lost in the wild or taken by wild animals; different countries; and different animals. Julia hopes with 'Feral Children' to arouse public awareness of the need not only to try to prevent further cases but also of the necessity to fund national institutions or charities to help cases after their 'rescue'. 
Julia was commissioned by The National Portrait Gallery in London to shoot portraits of leading people in the UK National Health Service, which are now held in a permanent collection in the Gallery. Her images are also in permanent collection at the Musee de l'Elysee, Lausanne, Switzerland. She was a winner of the HSBC Fondation pour la Photographie award, and is a Hasselblad Master. 
Over the past five years, Julia has been a guest speaker at many international events including: National Geographic Seminar in Washington DC, USA; Fotografiska, Stockholm, Sweden; Dong Gang Photo festival, Korea, and Noorderlicht, International Festival of Photography, Norway.
Laura Pannack
Laura is a London based Photographer has had her work exhibited extensively and published both in the UK and internationally, including at The National Portrait Gallery, The Houses of Parliament, Somerset House, and the Royal Festival Hall in London. She has won numerous awards including in 2010 she received first prize in the Portrait Singles category of the World Press Photo Awards. She was awarded the Vic Odden by The Royal Photographic Society award for a notable achievement in the art of photography by a British photographer aged 35 or under.
Her art focuses on social documentary and portraiture, and seeks to explore the complex relationship between subject and photographer. Laura is driven by research led self-initiated projects that combine her interest in psychology and photography. In her own words, she does all she can "to understand the lives of those captured, and to present them creatively".
Jane Hilton
Jane is a London based photographer and film maker. Since her first trip to Arizona in 1988 Jane has been fascinated with American culture . She made ten documentary films for the BBC documenting life in two legal brothels in Nevada ('Love for Sale' 2003). Since then she has published a book on cowboys of the twenty first century in the American West ('Dead Eagle Trail' 2010); portraits of working girls in Nevada ('Precious' 2013) and her latest work about the American gun culture ("LA Gun Club" 2016). 
An occurring theme in her work is subjects that are 'legal but not socially acceptable'.  Her latest project "Lion Tamer"  is about exactly that, but based closer to home in the UK. Jane explores the story of Thomas Chipperfield and his family who are fighting to save their 300 year way of existence. Despite having wild animal licenses, regular vet inspections and providing loving care for their animals. Society has become indifferent and unsympathetic towards them, with the Government promising to ban all wild animals from performing circuses. This film explores Circus today beset with issues; lack of money, protestors, hostile media, death threats and a possible ban. 
Jane will be showcasing this project at this event. http://www.janehilton.com
Photography Seminar Day 2016
The 2016 seminar looked at contemporary documentary portraiture: motivation and methods. Top award-winning documentary photographers, Zed Nelson, Jane Hilton and Spencer Murphy, were brought together to discuss their motivations and methods with each other and a small audience.
You can watch the seminars in the video below: