You are using an outdated browser. Most of this website should still work, but after upgrading your browser it will look and perform better.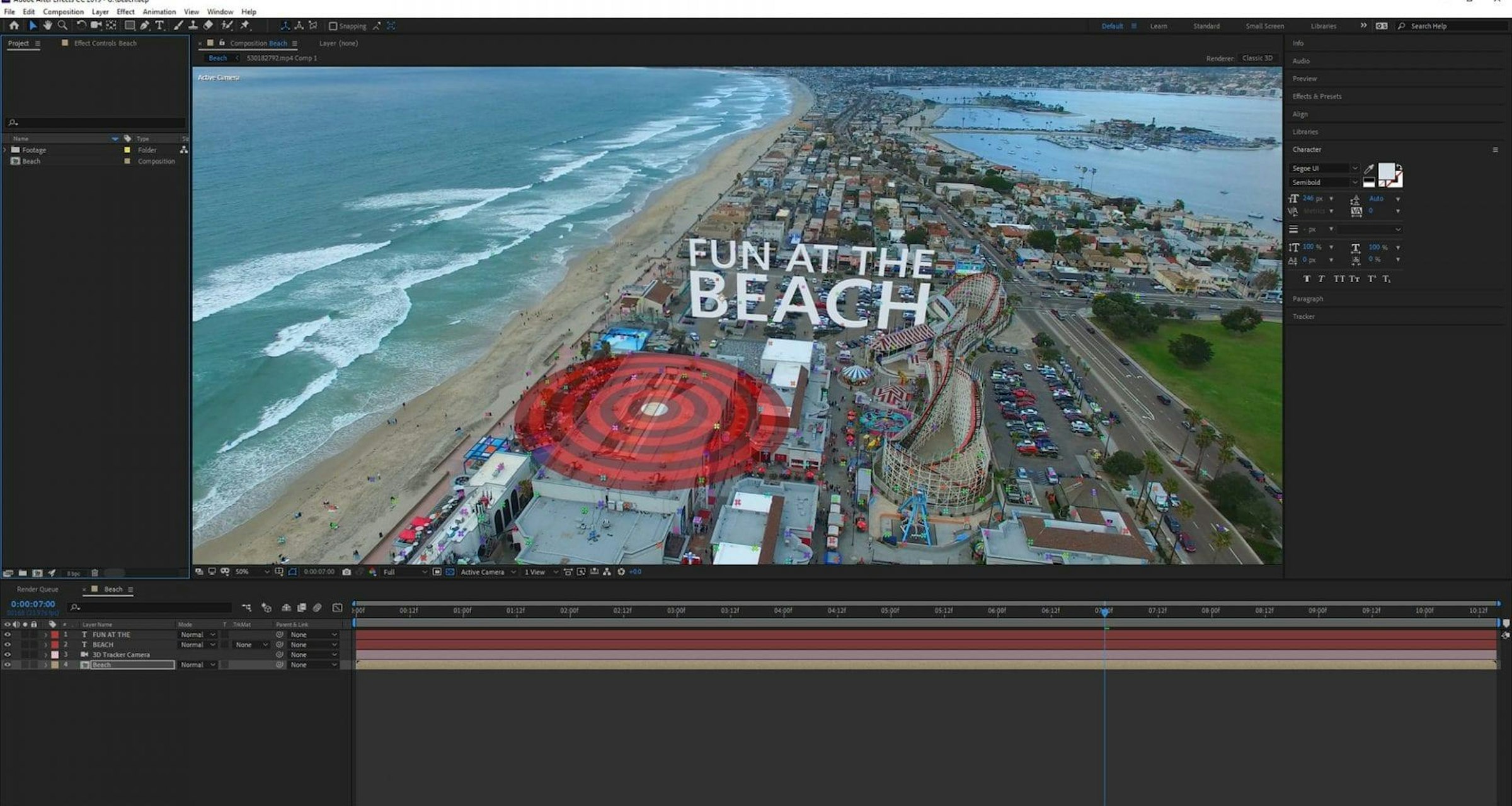 Motion Graphics using After Effects – an...
Motion Graphics using After Effects – an Introduction
Overview
Adobe After Effects is an industry-standard animation, motion graphics and VFX application widely used in film and TV. In 10 weeks, you'll master it.
We expect to publish new course dates in April 2024, so please check back then. You can also sign up to our newsletter for short course updates.
What you need to know
Where does it take place?
Classes will take place on AUB's campus.
You'll be taught in AUB's industry-standard studios with access to professional resources.
Who's this course suitable for?
This course has been developed for creatives and aspiring animators aged 18+.
Perfect for anyone who has a passion to learn and develop their animation skills.
It's suitable if you're a beginner or if you've some previous experience and wish to develop your skills further.

Do you need previous experience or qualifications?
This is an introductory course, so no previous knowledge or experience is required.
If you'd like to discuss if this course is suitable for you, get in touch with us: shortcourses@aub.ac.uk or +44 (0) 1202 363222.

How much does this course cost?
What's included in this price?
All course materials and resources.
Are there additional costs?
No, all course materials and resources are included in your course fee.
Please note, you may find it beneficial to practice your skills in between sessions. To do this, you'll need to have access to a computer with Adobe Creative Suite installed. You can get a 7-day free trial from Adobe after which you can purchase the software starting at £51.98 per month.
What should you bring to class?
A notebook and pen/pencils to take notes
Why should you choose this course?
Improve your artistic abilities
Come away with enhanced knowledge, skills, and confidence to create your own animations
Gain hands-on experience using Adobe After Effects and master all the relevant tools
Develop a range of technical skills in animation and motion graphics, compositing, and creating visual effects
Develop your technical skills and unique creative voice
Receive expert support and guidance from your industry professional tutor at every turn
Leave with increased confidence and the skills to continue acting beyond the course
Study in an encouraging and friendly setting alongside 16 like-minded creatives
About this course
This practical-led 10-week course covers the essential aspects of creating animated effects using Adobe After Effects. You'll get to grips with the interface of the software and explore a wide range of tools that'll enable you to take your 2D static ideas and turn them into sophisticated motion graphics.
On this course, you'll be introduced to the basics of Adobe After Effects, including screen layout and interface, layer-based workflow, tool palette and export settings. Mastering the interface will allow you to quickly progress to real-world exercises that'll familiarise you with the software while building your actual practical skills in these areas.
You'll be shown how to integrate your work with other Adobe software, enabling you to work in both bitmap and vector formats, as well as how to correctly format work for use in non-Adobe packages.
Each session will cover a specific area and will be followed by a practical mini brief to enhance your design and practical skills.
Animation and motion graphics:
Animating in After Effects using shapes
Utilising bitmaps and vectors
Keyframing
Animating text and images
Compositing:
Combining still and moving images to create composite video work
Utilising 2.5D to create 3D layers and effects
Colour correction
Using masks
Blending modes and transparency channels
Visual effects skills:
Chroma-key
Digital effects
Motion tracking
Stabilisation tools
Rotoscoping
Possess a comprehensive understanding of the techniques needed to create animations, motion graphics, visual effects and compositing using Adobe After Effects
Be able to create your own motion graphics with confidence
Have a clear understanding of the Adobe After Effects interface and tools
Be able to use Adobe After Effects tools efficiently and effectively, identifying the appropriate tools for your intentions
Possess improved artistic abilities
Have increased confidence in your own skills and feel inspired
Have boosted creativity and imagination
Be encouraged to experiment and explore your ideas, remembering that there's no right or wrong way to be creative
Possess the foundations to continue creating beyond this course
All students with 100% course attendance will be issued with an official AUB Short Course certificate of attendance. To request your certificate contact the short courses team: shortcourses@aub.ac.uk or call 01202 363222.
After this course, you could:
Continue to harness your creativity and develop your skills further; explore our range of Adobe Creative Suite short courses
Broaden your creative horizons and try your hand at a range of disciplines; explore our full range of evening and weekend courses
Continue to develop your skills at home as a hobby
You'll study at a leading specialist university – we know what we're doing when it comes to providing unparalleled courses
Our tutors are industry professionals, so you'll learn from the best
We cater for all abilities and have no formal entry requirements for this course, so there's nothing holding you back
You'll learn in a safe and encouraging environment where there's no right or wrong way to be creative
You'll learn 'by doing' and always feel fully included and supported
Benefit from our incredible campus and its industry-standard studios, and use state-of-the-art equipment and software to unleash your creativity
Motion graphics and Adobe After Effects gallery
Important information about evening and weekend courses