In conjunction with their degree studies, our students are encouraged to take industry placements at relevant places of work, usually during their third year.
While this is not a compulsory element of the curriculum, it is fully supported by the course staff, who organise many of the opportunities on behalf of the students.
Placements can be taken at a variety of companies, including large-scale theatres, mid-sized and touring theatre productions, television or film productions, costume work rooms or running wardrobes, large costume hire companies, individual designers, makers or supervisors who take on assistants, bridal shops and schools.
Students have the chance to gain a real insight into the working world of their preferred disciplines, and benefit from the mentoring which can only be found when working within the industry.
Some students will pursue several shorter placements, and many are found to be invited back for longer internships during the summer break. Many students find that this is the first opportunity to begin building valuable industry contacts, and find placements provide excellent prospects for networking.
It is not uncommon for graduating students to gain employment from their placement companies, having build relationships during their engagement with them.
Lottie Higlett
Chichester Festival Theatre's (CFT) collaboration with Royal Shakespeare Company (RSC) 2016.
Lottie worked as Assistant Supervisor to Karen Large on the productions of Love's Labour's Lost and Love's Labour's Won (Much Ado About Nothing).
"The recent RSC productions of Shakespeare's two great romantics comedies, Love's Labour's Lost and Love's Labour's Won (Much Ado About Nothing) were first produced at Stratford-upon-Avon in 2014. Directed by Christopher Luscombe and designed by Simon Higlett, the setting for the plays is either side of the First World War and audiences are invited to see both productions, a matinee performance and return for the evening show. This was great opportunity which I was excited to be involved with.
During my time working with Karen Large I experienced the production from the wardrobe department's perspective and developed my understanding of what it takes to costume the show from the technical rehearsal through to the first preview. I attended the first day of rehearsal, then returned for costume fittings in London.
Once the rehearsals were underway we organised a trip to the store to collect additional costume from the 2014 production. I made the veil for the character of Hero in Much Ado and helped organise the actor's costumes in their dressing rooms, ready for the dress rehearsal. I enjoyed learning more detail about the elegance of pre-war Edwardian fashion for the first play set in the summer and working on the changed world of the roaring 20's after the war in the winter for Much Ado.
I helped assemble the show bible and was tasked with note-taking during the technical rehearsals and left to manage the production alone whilst the Costume Supervisor was dealing with another show. The cast were extremely approachable and friendly and I was accepted as part of the production team. The core skills I have learned at AUB were essential and I felt confident and prepared whilst working with Karen during the fittings; using my making and organisation skills.
It was an extremely worthwhile experience that I look forward to repeating on its transfer to the Haymarket Theatre in the West End, in November 2016."
Take a look at the links below for more about the productions:
https://www.cft.org.uk/whats-on/event/loves-labours-lost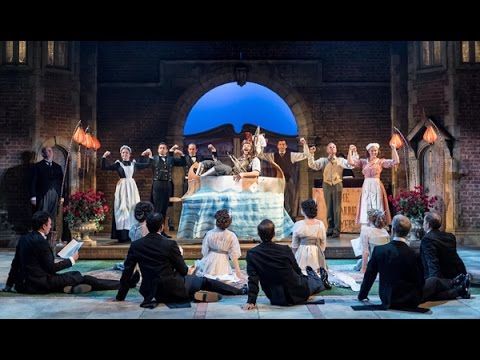 Sylvain Perez-Jacobs
The National Theatre, London 2013
"My work placement at the National Theatre was one of the greatest professional experiences I have had to date. Having a full time work routine in a specialised environment which I wish to enter made me experience, on a first hand basis the expected workload along with the privileges of the job".
"Focusing on the computer program AutoCad, I was assigned a variety of tasks that I completed to the best of my ability. Throughout my time working in the digital drawing department, I worked on various upcoming productions, drawing out plans for scenic design, construction and props. I have developed my skill capacity in the program vastly and now that I have that knowledge, I will be sure to use it in future projects. In my opinion, the most insightful information I learnt throughout my experience was seeing how the digital draughters communicated with the carpenters, painters and designers. And how they worked together to find solutions or better ways to make the shows work effectively. This collective approach to work brushed off on me towards the end as I collaborated with the digital drawers to achieve appropriate and effective results, although most of my work was completed through my own research and application individually".
Bethany Holmes
Les Miserables – Queens Theatre, London 2012
"I completed my placement with Les Misrables at the Queens Theatre London. This was an invaluable experience for me as not only was I getting advice and training from professional practitioners I was also working backstage on a production that is universally known. I had access to costume bibles and programs from the very first stage production right up to the end of my placement, and was allowed to study, in close detail, hundreds of costumes in the company warehouse, for Les Miserables and other shows like Phantom of the Opera. I assisted at fittings, made alterations to costumes, made new accessories where replacements were required and learnt daily maintenance skills. I was also given the opportunity to shadow a different dresser every evening to observe the overlapping dressing plots and assist with quick changes. This was exciting for me as I had not previously done much dressing and loved the unpredictability and changeability of the backstage experience during live performance".