Back to Foundation News
PrepHE
Pathway
Leader
Documents
Yann
Tiersen's
Midsummer
Cycling
Tour
Preparation for HE Pathway Leader Sam Wilkins has documented the midsummer cycling tour of musician and Amelie soundtrack composer Yann Tiersen.
To promote his new album, ∞ (Infinity), Tiersen undertook a 1000km cycling and signing tour of Brittany, France over six days in July. Documenting the whole tour was PrepHE Pathway Leader for Film and Animation, Sam Wilkins.
Sam produced six different videos, covering the six different stages of the tour, working out the back support van that followed Tiersen on his bike. On the tour, Sam said:
"The experience of the tour was rewarding, exhausting, in parts terrifying and sometimes magical! In the van were myself, Ben Baldwin, Yann's manager and my Producer for the film and Yann's dog Voltaire. One of the biggest challenges was keeping the dog hair out of the equipment!"
Sam's videos have already seen over 32,000 views of YouTube, with Stage 5 being viewed 12,000 times alone. The video shows Tiersen giving a rare performance at a lakeside Piano:
"Recording Yann performing on the piano in such a magical lake-side setting was a real highlight. Yann is most well known for his soundtrack for the film 'Ameilie' but doesn't perform very often on the piano, so it was a real pleasure and honour to film this moment. Having the chance to work on hybrid form that was part travelogue, part documentary, part promo was a real pleasure and lead to a really intimate portrait that wouldn't usually occur."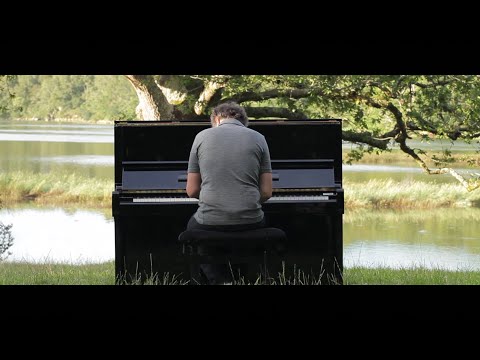 "On the Foundation course I have to teach across skills form across the board of filmmaking – sound, editing, camera, visual storytelling etc. so projects like this one help me keep my eye in and  this style of filmmaking is  not too dissimilar to the small scale projects they actually shoot. But it helps to demonstrate that small scale doesn't mean that any area has to suffer for quality, whether its picture, sound, edit or ambition.

It also helps to show that to achieve things like this does take a lot of practice and knowledge, but the nature of the project fits nicely with our ethos  of 'make, make, make' when it comes to films."
You can view the rest of the videos on Yann Tiersen's Midsummer Cycling Tour website and see the recent video Sam produced for PrepHE's Diploma in Art and Design — Foundation Studies on the AUB's YouTube channel.