Back to Graphic Design News
Graphic
Design
Network
Event
and
internships
at
AUB
Earlier this year BA (Hons) Graphic Design students had the opportunity of showing their work to industry professionals at a Network Event held at AUB.
The event gave second year students the opportunity to present their website portfolio to industry professionals and receive feedback. This year the students hand-coded their websites. Fifteen agencies participated in the event with companies attending from Bournemouth, Poole, Bristol and London. Many of the students were subsequently offered internships over the summer as a result of the contacts they made at the event.
Watch the event: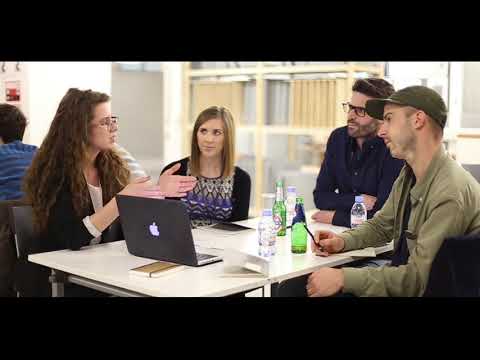 We caught up with a few of the students to find out how they found the experience.
Stephanie Marsh secured three internships over the summer at Thinking Juice, Fireworx and AMVBBDO agencies. When we asked her if she could give current level 5 students one piece of advice about finding an internship Steph said:
"Start looking for internships early as they take time to arrange. Push yourself, call up places don't just email'.  
"I think it gave me the experience of getting to know professional designers, this has given me confidence to push myself when meeting people in the industry".
We also caught up with Stewart Austin, Head of Design at Thinking Juice to see how the students had done. Stewart told us: "I was super impressed… all four students were lovely and enthusiastic and managed to get time with different creative guys here, they really listened".
We also spoke to student Harry Wakeling and asked him if there was anything he would have liked to have known more about before starting his internship at Fireworx. Harry said: "I was worried beforehand that I didn't have enough knowledge of some computer programs and that it would be a bit difficult. This didn't matter however; they were more interested in seeing my ideas and how I approach a brief, as well as how I fit in with the group".
He went on to say: "I would say that it was better than expected; they recognised that I had a particular style that I like to worth with and they let me bring that into projects. They also wanted to see my conceptual thinking which I enjoyed".
We asked Lucy Richardson, a student who undertook an internship at RLA if there was anything she would have liked to have known more about before starting her internship.  Lucy said: "Not really, I think it was best that I went in with an open mind because they're so helpful in guidance and they understand that you won't be as skilled as they are".
Lucy went on to say: "It was good to get more than one internship who specialise in different areas because you can compare the two and make a better judgement of what you want to do when you graduate. Also, you gain contacts and learn so much in just a week which you can then use towards your uni work".
We also caught up with Jacob James and Lewis Hales, both students undertook internships at Bright Blue Day. We asked them if there was one piece of advice they could give current second-year students in relation to gaining internships.
Jacob said:"Get involved in as many opportunities as possible, especially industry based projects or anything in relation to industry that will help you make contacts. Don't be afraid to ask a friend of a friend of a friend if you know they might do something that you would like to get involved in. Finally, if you decide to email companies spend a bit of time writing an interesting email, do something different. Make them remember you".
Lewis added: "Just be yourself and let your work speak."
We also spoke to Gavin Grissett, Deputy Creative Director at Bright Blue Day on how the students had done. He said:
"I'd just like to say that I really enjoyed having your students in the studio over the summer. All three showed a refreshingly professional attitude, and helped us out a great deal on a mixture of internal and client projects.
"Hopefully they all benefitted from the experience too – I know we wouldn't hesitate to have any of them back again, which pretty much sums it up!"
We would like to thank all the companies that contributed for giving their time, sharing their experience and inspiring the next generation of designers.