You are using an outdated browser. Most of this website should still work, but after upgrading your browser it will look and perform better.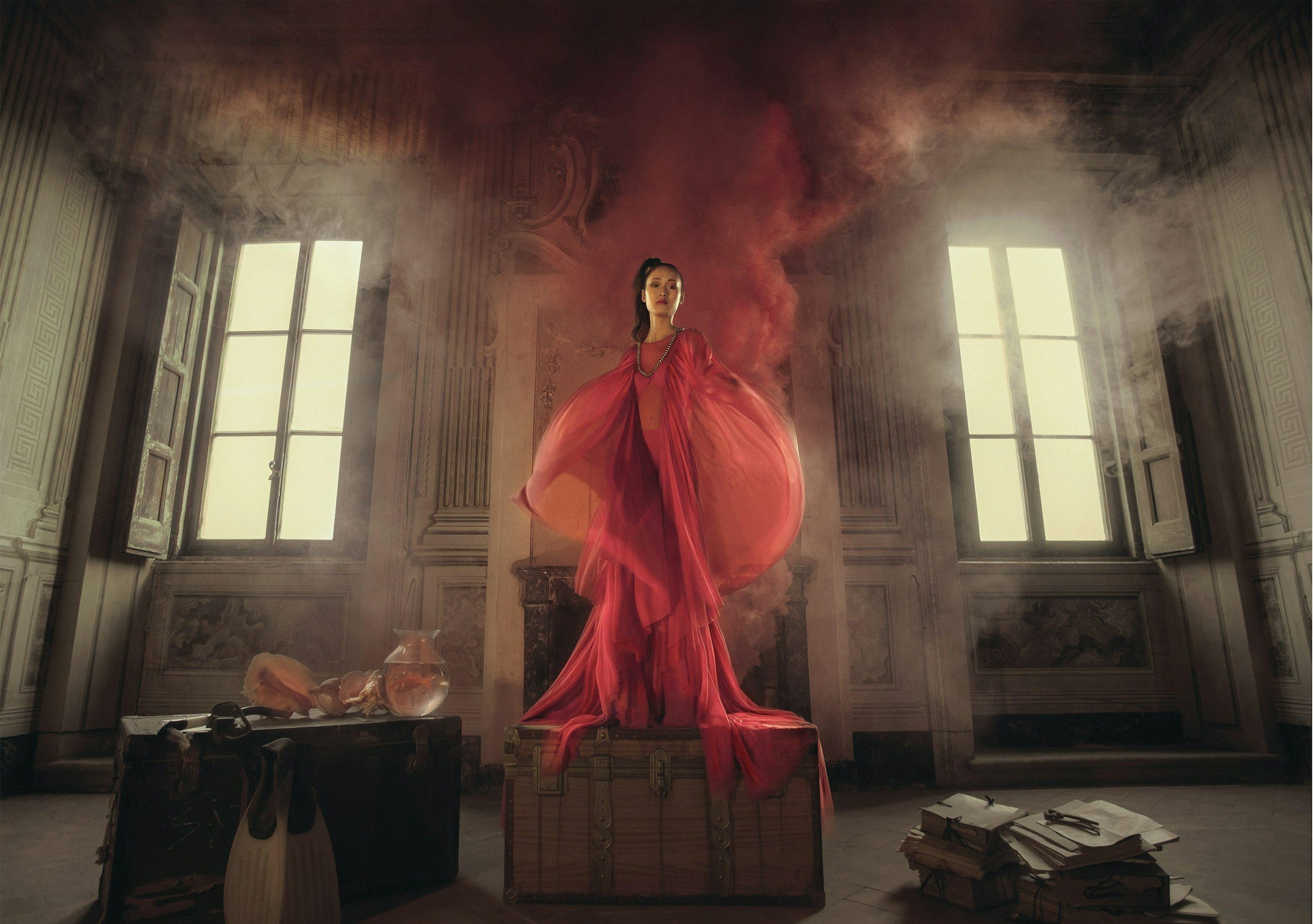 BA (Hons) Commercial Photography
BA (Hons) Commercial Photography
Duration:

3 or 4 years full-time

Placement year:

Optional 1 year

Course code:

W644 (UCAS)

Institution code:

A66 (UCAS)
Overview
The media relies on creative imagery to communicate messages. This course gives you the opportunity to develop a specialist career, working within fashion and beauty, advertising, documentary, editorial and portraiture.
Commercial Photography course information
This course gives you the opportunity to develop a specialist career, working within fashion/beauty, advertising, documentary/editorial and portrait photography. Through the combination of creative and technical skill, our students aspire to challenge perceptions, and push boundaries, through making imagery that's at the forefront of contemporary photographic practice.

This course gives you the opportunity to develop a specialist career, working within fashion/beauty, advertising, documentary/editorial and portrait photography. Through the combination of creativity and technical skill, our students aspire to challenge perceptions, and push boundaries, through making imagery that's at the forefront of contemporary photographic practice.
Graduates from this course have gone on to create images for clients including Louis Vuitton, Stella McCartney, Chanel, The Times Fashion Supplement, Love Magazine, Dazed and Confused, Huck, Kit Magazine, The Telegraph, The Guardian, Vogue (UK, India and Italy), Nike, Adidas, Lacoste, Wall Street Journal and the BBC.
If you want the opportunity to set the future agenda for commercial photography, and have the commitment and drive to make the most of every opportunity the course can give you, then we would love you to join.
We'll help you to gain a broad understanding of photographic practice and theory, so that you graduate confidently with the creative and critical visual language needed to work in the industry as an individual and within a creative team. As part of this course, at all levels, you'll attend guest lectures by visiting photographers and industry professionals.
Employment prospects are good, even before you graduate. In recent years, many students have been commissioned and published while still on the course and have had success through prestigious competitions.
Career options are varied too. As well as setting up freelance businesses, many graduates go on to work in a variety of roles within studio management, retouching, assisting, styling, and advertising.
Over the three years of study, you can choose to focus your specialism within one of the three award titles:
BA (Hons) Commercial Photography (Advertising)
BA (Hons) Commercial Photography (Fashion)
BA (Hons) Commercial Photography (Documentary/Editorial)
| | |
| --- | --- |
| Course duration | 3 or 4 years (full-time) |
| Placement | Option of a 1-year placement |
| UCAS course code | W644 |
| UCAS institution code | A66 |
Placement year
All undergraduate courses at AUB offer an optional placement year, to be taken between your second and third years of study.
If you're unsure about this optional placement, you don't need to decide now. Once you're here and studying with us, the course team will discuss the placement options with you, so when the time comes, you can make a decision that's right for you.
If you're required to have a Student Visa to study in the UK, it won't be possible to undertake the one-year placement option; there'll be other opportunities for you to engage with industry during your study at AUB.
Level 4 (first year)
In your first year, you'll learn the creative, practical and theoretical skills that you'll build upon during your degree. We'll introduce you to a variety of traditional and digital photographic techniques and processes, giving you a strong technical foundation in location and studio lighting, analogue and digital capture, as well as moving image and digital postproduction techniques. This year also covers key historical and theoretical themes through written assignments, used to reinforce learning and development.
Level 5 (second year)
During second year, you'll continue to develop your creative skills through enhanced ability within moving image, digital skills and promotional awareness, building upon your first-year experience and developing your genre-specific interests, during two practical units.
Your industry understanding will be consolidated by undertaking a work placement, allowing you to gain hands-on experience, working alongside industry professionals, whilst also building your own professional profile.
Our 'Critical Analyses' unit explores some of the themes and approaches used in the exploration of photographic meaning and semiotics, developing research and written communication skills, providing you with the academic ability to better understand your practice in broader socio/ political contexts, while preparing you for the third year major written assignment.
Between second and third year, you'll also have the option to take a placement year.
Level 6 (third year)
Your third year allows you to build on your platform of skills and knowledge, with an extremely focused approach to your career ambitions, working in genre-specific study groups.
Two major practical units provide the opportunity to create the work that will become your professional portfolio, and the unit 'Research Paper' will allow you to engage with a critically informed analysis of a subject-related topic.
Graduating from the course, you'll have the opportunity to produce an accomplished commercial portfolio and the critical skills with which to enter the creative industries.
If you wish to continue your studies, you'll have the option to progress to postgraduate study with our MA Photography course.

All students are registered for the award of BA (Hons); however, exit awards are available if you leave the course early, having successfully completed one or two levels. If you successfully complete a level of the course, you will automatically be entitled to progress to the next level.
For the award of a Certificate of Higher Education (CertHE), you must have achieved a minimum of 120 credits at Level 4. This qualification may be awarded if you leave the University following successful completion of the first year of your course.
For the award of a Diploma of Higher Education (DipHE), you must have achieved a minimum of 240 credits of which a minimum of 120 must be at Level 5. This qualification may be awarded if you leave the University following successful completion of the second year of your course.
For the award of a BA (Hons) you must have achieved a minimum of 360 credits of which a minimum of 240 must be at Level 5 or above, of which a minimum of 120 credits must be at Level 6. This qualification will be awarded upon successful completion of your course.
A BA without Honours may be awarded if you have achieved 300 credits, at least 180 of which are at Level 5 or above, and at least 60 of which are at Level 6.

Many of our students are commissioned and published while studying on the course and win prestigious and high profile awards.
Here are some student and graduate awards:
British Photography Awards 2023 – Portrait – Winner – April Ironside
British Photography Awards 2023 – Fashion – Shortlisted – Emily Hazlerigg
Association of Photographers 2023 Student Awards – People – Gold – Nic Teo
Association of Photographers 2023 – Food and Drink – Gold – Frankie Turner
Eizo – Student of the Year 2023 – Honor West (see clips below)
Fresh Meet Award 2020
Eizo Awards 2020
Association of Photographers Student of the Year (Best of Show) 2019
The Photographers Gallery 'New Talent' Award/Fresh Faced & Wild Eyed: 8 most exciting new photographers 2008, 2011 and 2019
Portrait of Britain Awards 2019
Yatzer – A Shade of Pale: Ten Evocative Narratives Exhibition 2018

EIZO award for fashion film 2017
British Journal of Photography, three students chosen as the Ones to Watch Graduates 2017
Hunger Magazine, 2017 graduate nominated for the feature Five Emerging Fashion Photographers to Watch Right Now
Watch Honor West's commercial, PARADE, which was awarded Ezio Student of the Year 2023:
Course team
Our lecturers and technicians are specialists in their fields. You can read more about their experience by browsing their staff profiles below.
Creating imaginative images that meet the high commercial standards demanded by clients within the creative industries has to be a collaborative venture. We're perfectly placed to make this happen, with all of the key disciplines physically located only minutes from each other. Therefore, the creative collaborations that happen on the course replicate that of our industry, helping our students to create images that push the limits of expectation at undergraduate level, giving the opportunity to truly prepare our students for employment, as they become the next wave of creatively focused photographers, within fashion and beauty, advertising and documentary/editorial photography.
Watch our course videos
Course leader Conrad Tracy talks about what to expect from studying BA (Hons) Commercial Photography here at AUB. He also unpacks what makes a great photographer.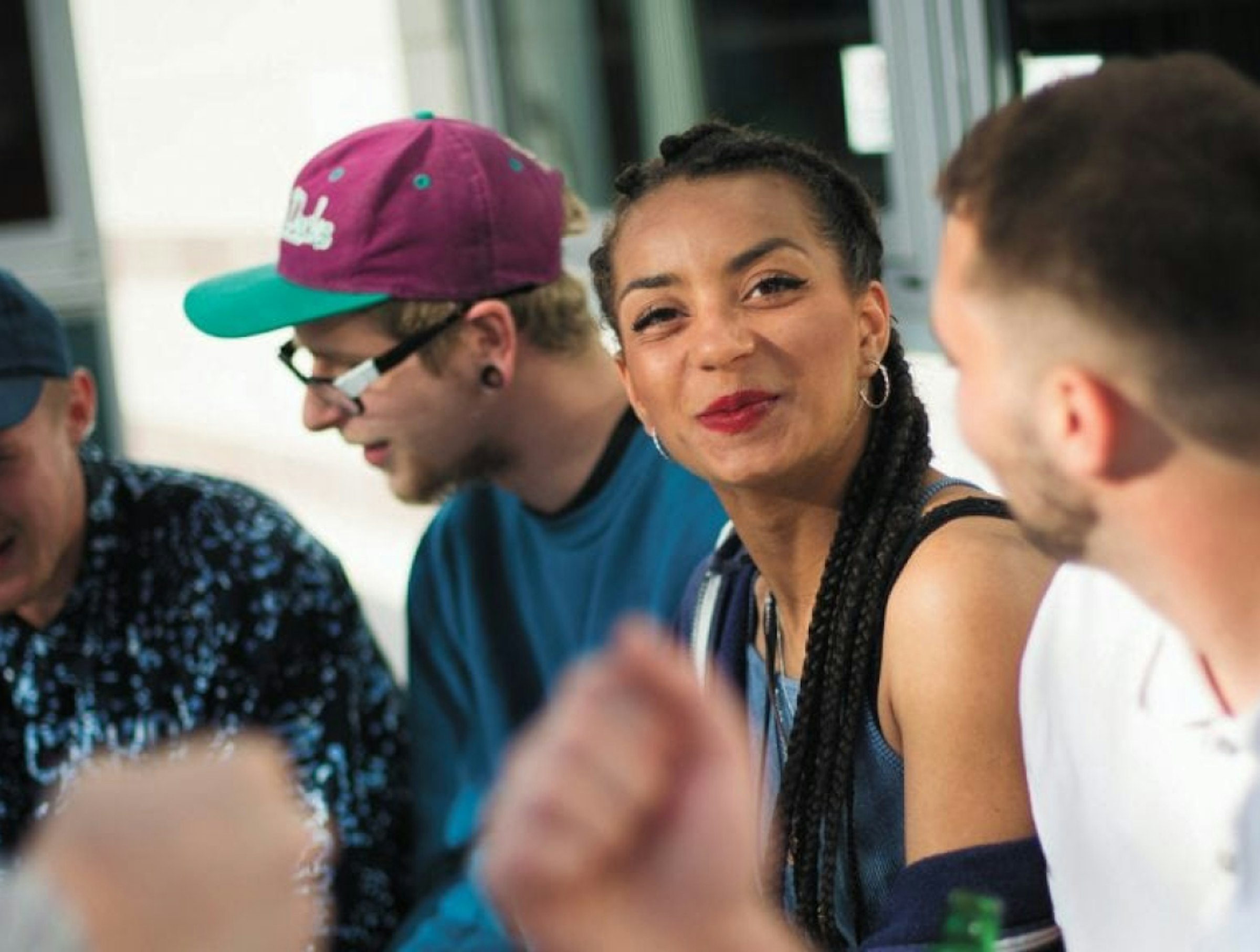 Chat to a student
Our student ambassadors are here to answer any questions you might have on university life, our courses and all things AUB.
Chat on Unibuddy
Application process
Once you've found the perfect Undergraduate course, you can apply to study via UCAS, including direct entry applications to second and third year.
When applying through UCAS, use the institution code A66 for courses taught at Arts University Bournemouth. For courses based at Bournemouth and Poole College, use code B49. We'll then use your completed UCAS form to make decisions about your application. You can find out more on entry requirements in our apply section.
When you apply to one of our courses, it's important that you help us get a good picture of both you and your work – so you'll need a great personal statement. We want to know more about why you're interested in the course, your key influences, and what you hope to do after your studies.

If you're invited for an interview, many of our courses will ask to see a portfolio of your work so we can get more insight into your ideas and abilities. To help you, we've created guidelines outlining what we expect from your portfolio for each course.
The fee that you pay the Arts University Bournemouth provides the necessary equipment and training for you to complete your course.
You may also choose to buy some items of personal equipment such as a laptop or tablet computer, but this is not required; desktop and laptop computers are available for you to use in common study areas, including a loan system in the Library.
For the majority of our courses, we'll ask you to digitally submit a portfolio as part of the application process.

Portfolios should show examples of your work – both finished and work in progress – that demonstrate your interests and skills. We expect to see around 20 slides/images in your portfolio that shows your identity as an artist
If we ask for a digital portfolio then we'll give you 30 days to submit it. Sometimes we'll need a portfolio submitted quickly if there's a UCAS set deadline approaching, but if you need more time, just let us know and we'll try to help.

We've created specific portfolio guidelines for each of our courses, you can take a look at these below.
If you've applied to study an online postgraduate (MA) degree, please refer to the AUB Online portfolio guidelines.
None of our courses currently require an interview.
The only course requiring an audition is BA (Hons) Acting and if you're invited to one you'll have at least 10 days notice.
Studios and Resources
The photography facilities at AUB recently underwent a multi-million-pound development and refurbishment, which saw the creation of brand-new digital suites, a collaborative specialist photography hub and brand-new colour printing facilities.
You'll have access to seven dedicated photographic studios and specialist photographic equipment.
Teaching, learning and assessment
The course outcomes will be met by deploying a wide variety of teaching and learning methods including workshop projects, studio projects, lectures, seminars, group critiques, guided reading and tutorials.
Each unit is assessed separately, and the assessment forms part of the unit. Assessment both provides a measure of your achievement, and also gives you regular feedback on how your learning is developing.
The integration of theory and practice is promoted and reinforced through a team-teaching approach. Lectures, seminars and tutorials may be delivered by team members, as appropriate, in the creative environment of the studio.
The methods employed will, wherever possible, induct students in the disciplines required of a creative practitioner in commercial photography along with transferable skills (managing self, professional skills and team working), and value and credit any relevant previous experience. A key method will be the promotion of work-related learning, including work placements, visits to the workshops or studios of relevant practitioners or organisations, guest lectures or workshops led by visiting practitioners and 'live' or simulated project briefs. Learning and career planning will be consolidated through the encouragement of skills in personal planning, reflection and development.
Teaching is directed at supporting individual engagement in learning, although there will be opportunities for students to work in teams to enable them to learn the value of peer cooperation. Also, it's anticipated that due to the vocational and professional orientation of the course, and to enable students to benefit from the range of resources and disciplines within the University, opportunities will exist for students to collaborate in teams with peers in, for example, Make-up, Textiles, Fashion or Modelmaking. It is also envisaged that live project work may benefit from the collaboration of students from all levels of the course.
The study time allocated to each unit in the course incorporates a balance of teaching support and learning. The progressive promotion of student-centred learning reflects the anticipated maturity of students and allows them to direct their learning towards individual goals. For example, the teaching in Level 4 is directed at providing students with the knowledge, concepts and skills necessary to take increasing responsibility for the management of their own learning as they progress through to Level 5. Level 6 of the course allows the student to confirm their particular creative concerns and to extend the scope and depth of their enquiry, taking the major responsibility for their study. Teaching support reflects these expectations, as mature learners, through tutorial support that complements the autonomous nature of their study.
Negotiated Learning Agreements are the principle means of defining learning goals and monitoring progress and achievements, providing the opportunity for student to extend their interests and abilities, and demonstrate their capacity for sustained independent and professional work.
Guidance and counselling to help students in realising their learning potential will be provided continuously throughout each academic year.
The methods employed will, whenever possible, lead you, 'the student', into the disciplines required of a creative practitioner and promote the transferable skills of self-management and self-reliance.
The course is structured progressively to provide increased opportunities for autonomous learning.
The progressive promotion of student-centred learning reflects your developing maturity, as a student, and supports your individual learning towards your aims and goals.
Contact hours include all scheduled teaching sessions, but also supervised time in the workshop or studio. In line with national guidance, we include in our calculation of contact hours all the time which is scheduled in the studio for independent study which is also supported by staff (either academic staff, or technicians).
The information provided below gives the proportion of your study time which constitutes contact hours. Where there are optional routes through the course, we've used the figures for the most popular option.
| Year 1 (% time) | Year 2 (% time) | Year 3 (% time) |
| --- | --- | --- |
| 68 | 68 | 68 |
For every unit of your course, we'll inform you of what you are expected to learn, what you have to submit, how your work will be assessed, and the deadline for presenting your work for assessment. This is made available through Unit Information, which is on your course blog.
You'll receive a final mark for each unit in the form of a percentage, which will be recorded on your formal record of achievement (transcript). Each component of assessment is graded using a notched marking scale, whereby only certain marks are used within each grade. The only marks available within any ten-point band are *2, *5 and *8 (e.g. 62, 65, 68). These marks correspond to a low, mid, and high level of achievement within each grade band.

All learning outcomes must be passed to successfully complete the unit.
On successful completion of your Honours degree course, you'll be awarded a degree classification based on your unit marks. The final classification is determined using all unit marks at Levels 5 and 6 using two different algorithms, which are detailed in the HE Student Regulations. If the two algorithms produce different results, you will be awarded the higher class of degree.
If you've joined Level 6 through either the Recognition of Prior Learning (RPL) route or having completed a Foundation Degree (FdA), the final classification is determined using only your unit marks at Level 6.
For further information on assessment, progression, awards and classifications, please visit viewpoint.aub.ac.uk.
What our graduates are doing
Students studying this course achieve great things and have won prestigious and high-profile awards.
Graduates from this course have gone on to create images for clients including The Times fashion supplement, Kit Magazine, Huck, Vogue, The Telegraph, The Guardian, and BBC. Other roles include:
Wessex Photographic – Branch Manager
Double Exposure Photographic – Retoucher
Burton Menswear – Photoshoot Coordinator
Momento Studios and Promotions – Bookings Co-ordinator
Harvey Nichols, Surfdome and Laura Ashley – Photographer
Magine TV – Marketing Consultant
Popcorn Learning Media – Digital Learning Designer
The Economist – Picture Editor
Salvatore Ferragamo, Pitti Uomo/Bimbo, New York Fashion Week, Guess by Marciano – Photographer
NOW TV – Design Creative
ASOS – Retoucher, Senior Retoucher
Closer Magazine – Junior Picture Researcher, Picture Desk Assistant
Hut Group – Junior Food Photographer
Automotive Magazine – Staff Photographer
Grazia Magazine – Picture Researcher
Conde Nast India – Junior Photo Editor
Show Studio – Photography Technician
Sunbeam Studios London – Studio Assistant
Holland Publishing – Assistant photographer
Dreamer Productions – In-house Photographer
Photographic Freelance – Various
Photographic Agent – Visual Artists
Our students go on to create images for international magazines and newspapers, picture desks, ad agencies, fashion houses, and more.
Trips and visits
As part of your course you may also get the opportunity to take part in course trips. Previous trips have included:
New York
Berlin
London
Paris
Brighton
*These trips are optional and some may incur additional costs
Latest from BA (Hons) Commercial Photography
---