Back to Course News
Graduate
Fashion
Week
2015
BA (Hons) Fashion students opened the catwalk for Graduate Fashion Week 2015.
Check out some of the featured collections on Vogue.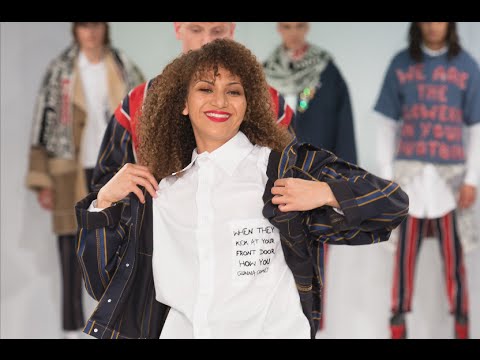 Poppy Russell made it through to the Gala event at the end of GFW. She switched up the catwalk routine with dance – see her explosive show here.  Before taking BA (Hons) Fashion, Poppy also studied the Foundation course at AUB. She said:
"Having my collection make it to the Gala show at GFW and to be named one of the 25 best collections of the whole event was the perfect way to finish off my degree after 3 years working towards this point. The press and response it's got has been incredible and a really encouraging start to my career." See her Instagram. 
Charlie Carstairs was announced winner of the Accessories award. Her work shows a different take on fashion, using illustration to create products with a fashion and lifestyle outcome.
Visit Charlie's website to discover more of her work.
In addition to these awards, Annie Tolput was runner up for the Fashion Marketing award.
Course leader Anne Chaisty said:
"We were excited to present the work from our 2015 fashion graduates! We saw a diverse selection of womens wear, menswear and kids wear as well work from students presenting fashion publications, film, websites, apps, new media developments.
Our students have been successful in gaining sponsorship and support from the following companies, Sophie Hallette Paris, Farrow & Ball, Factory Lux, After Party,The Urban Botanist, Bespoke Barware, Bluebird Tea Company and The Primal Pantry."