You are using an outdated browser. Most of this website should still work, but after upgrading your browser it will look and perform better.
Careers and Employability
It's our job to help you get ready for your future – we provide a wealth of support, advice and guidance to help your career take off in the right direction
AUB Creative Futures Fest
The Creative Futures Fest is a week of events with themed days that aim to inform and inspire students and graduates about a range of career areas and opportunities.

Many recruiters look beyond your degree title and are interested in the transferable skills you are gaining on your degree. This means that the range of careers you could go into is vast! Explore the range of speakers on offer and book on to get your zoom link. Be inspired!
We are in the process of fine tuning the details but look out for updates.
To sign up to events go to Creative Futures Fest.
Spring Career Events 2021
This term, Careers and Employability are running the new AUB Creative Futures Fest alongside a series of events to help you with planning your career and finding opportunities to develop your skills. All of the events will be online via zoom. To attend, register and sign up on aub.jobteaser.com for more information follow us on Instagram @aubcareers
| Date | Time | Event | Host |
| --- | --- | --- | --- |
| Wednesday 20 January | 13.00-14.00 | Creating a stand out CV and Cover Letter | AUB Careers Team, Emily Rogers |
| Tuesday 26 January | 10.00-12.00 | Introduction to Freelancing | Laura Mulhern, Plan.Make.Do |
| Thursday 4 February | 13.00-14.00 | Personal Branding - Promoting yourself online (Instagram and website) | AUB Careers Team, Emily Rogers |
| Tuesday 9 February | 10.00-12.00 | Goal Setting: Why you should bother writing a business plan as a creative | Laura Mulhern, Plan.Make.Do |
| Tuesday 23 February | 10.00-12.00 | Creative Social Media Marketing - Master class | Laura Mulhern, Plan.Make.Do |
| Wednesday 24 February | 12.00-13.00 | Am I bovvered? Think better thoughts and make positive choices! | Dave Keeling |
| Thursday 4 March | 13.00-14.00 | LinkedIn for Creatives | AUB Careers Team, Alison Zorraquin |
| Tuesday 9 March | 10.00-12.00 | Essential contracts, invoicing, pricing and negotiation in the arts | Laura Mulhern, Plan.Make.Do |
| Thursday 11 March | 14.00-17.00 | Photography workshop – Learn how to take beautiful photos of your work for your portfolio | Jayne Jackson |
| Thursday 11 March | 13.00-14.00 | Strategic job hunting! Approaching Industry with confidence | AUB Careers Team, Emily Rogers |
| Tuesday 23 March | 13.00-14.00 | Succeeding in Interviews | AUB Careers Team, Alison Zorraquin |
Past events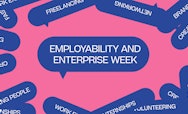 Our Careers and Employability team are excited to welcome a host of guests and alumni on campus for employability and enterprise week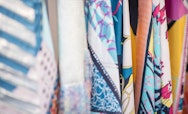 We've developed skills sessions for students for their future careers, setting up their own businesses or becoming freelancers