You are using an outdated browser. Most of this website should still work, but after upgrading your browser it will look and perform better.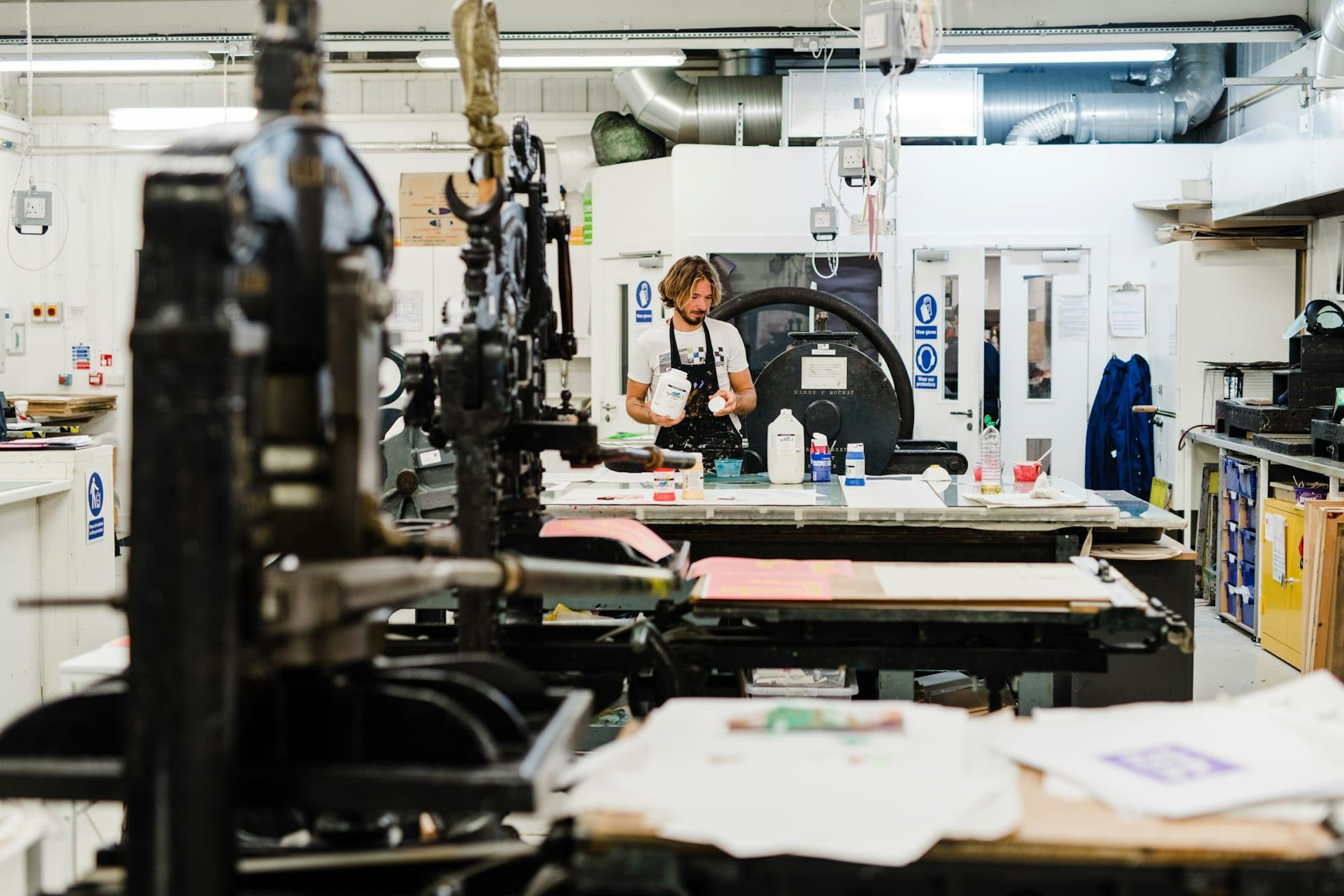 Our Campus
Printroom and Passiv Haus
This is AUB. A place to shape and build your work; to learn, share, provoke and collaborate.
Printroom and Passiv Haus
Our printmaking facilities are a hub of creativity on campus and have been inspiring students since 1964. Our unique sustainable space, Passiv Haus, is a light and airy studio.
The Printmaking Room
Located inside the purpose-built space in the North Light Studios, our printing presses connect students to one of the earliest skills that has changed very little from the time of Durer and Rembrandt.
Over the years, we have amassed a number of traditional presses, including letterpress, etching, relief, lithography and silk screen printing. We have dedicated areas for exposure, screen washing and acid etching – and we are adding new presses all the time.

The printmaking studio has been designed to cater for etching, relief and lithography, which relies on oil-based ink, whilst also offering screen printing, which relies on water-based inks.
The practices carried out in our print room may be traditional, but they are developed with a modern view that supports the fresh, contemporary ideas that come from students in BA (Hons) Fine Art, Visual Communication, Illustration, Graphic Design and further afield.
Regardless of the course you're on, your experience in printmaking always starts the same way. We'll introduce you to safe working practices by skilled technicians that specialise in this creative field. Those same technicians will continue to support you throughout your development, as you become an independent and proficient printmaker.
Alongside our technicians, you will also have the opportunity to work with a number of visiting tutors, many of whom are practising artists and printmakers. They'll give workshops in printmaking to help develop your skill base and knowledge of the art, and prepare you for entering the professional world as a practising artist.
Passiv Haus
Our unique sustainable space, the Passiv Haus, is used by many of our courses as a workshop for drawing. The building generates its own power for heating and lighting and is always welcoming and warm.
Take a look at our students working in the spaces